One thing most items have in common with one another, regardless of their cost and value, is the need for upkeep. If you care about the money spent, and/or the item, you will need to do your utmost to ensure the longevity and efficiency of said item. This statement is even truer for precious belongings such as jewelry, and diamond jewelry in particular. One of the first questions many diamond consumers have, or fail to ask, are: how do you clean diamond jewelry? Luckily, the answer to this crucial question is fairly simple. With just a few household items, some information, and basic guidelines you can have your diamonds clean and sparkling in no time at all.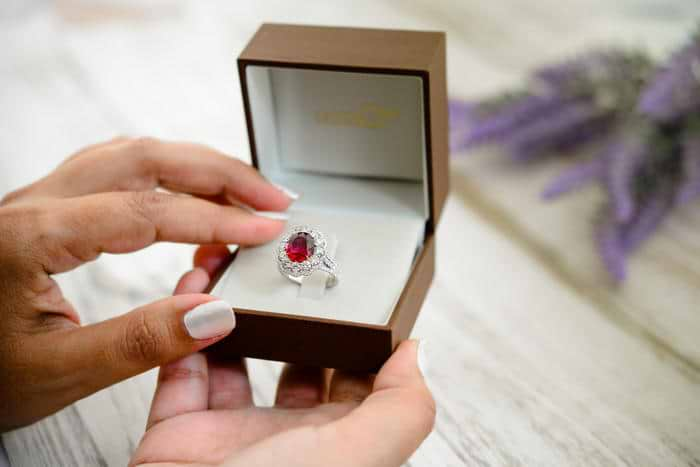 When to Clean Your Diamond Jewelry
Before we address the question of how to actually clean your diamond ring, diamond earrings, or diamond bracelet, let's discuss how often this must be done. The short answer is that it is preferable for diamond jewelry to be cleaned professionally at least once or twice a year. Those who wear their jewelry constantly and are very active in the kitchen and outdoors may even want to have their jewelry cleaned more frequently. In between professional cleanings, diamond jewelry can be cleaned easily at home using common household substances. This can be done according to the need, or once a week for ultimate results and diamond jewelry that is always sparkling clean and void of debris.
What You'll Need to Clean Diamond Jewelry
Despite widely dispersed suggestions of using agents such as toothpaste and baking soda to clean diamond jewelry, it is best to stick with simpler substances. All you need is a small or medium-sized bowl depending on the amount of jewelry you would like to clean, some warm water, dishwashing soap, a clean soft toothbrush, and a clean soft towel. Additionally, you will want about twenty to forty minutes for the jewelry to soak, and a few extra minutes for prep and cleanup.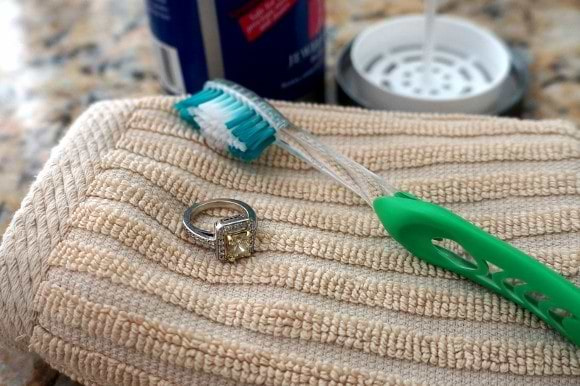 All you really need: a gentle toothbrush, a soft cloth, dish soap and some warm water.
Steps of Cleaning Diamond Jewelry
Prepare a cleaning solution by filling the bowl with warm water and adding some dishwashing liquid. You can also use other liquid soap or shampoo, but avoid anything with moisturizer, as that is what leaves a film on the diamond and metal.
After mixing the solution, place the jewelry inside the bowl and allow it to soak for twenty to forty minutes based on how much dirt has accumulated.
Then, using a soft and clean toothbrush, gently brush the jewelry, especially the crevices.
Once brushed, you can rinse the jewelry with warm running water. If necessary, repeat the cleaning process.
The jewelry can be dried with a clean soft cloth. Avoid using tissues or paper towels as these can scratch the diamond and metal, and can also be thrown out accidentally with the jewelry. You can also always allow the jewelry to air dry.
What to Avoid
There are those that recommend purchasing home ultrasonic jewelry cleaners. While these devices clean jewelry efficiently, they can also loosen the stones during the cleaning process, causing them to fall out and get stuck in the machine. Professional jewelers who use such devices are able to detect a loose prong or stone, and prevent this from happening. They can also fix it once detected, unlike the amateur jewelry cleaner at home. Abrasive cleaning agents such as acetone, bleach, and chlorine should be avoided as well. Some opt for store-bought cleaners such as quick dip solutions. While this could be an option for some, it is just so much easier to use soap and water. If you do choose to clean your diamond jewelry with such a solution, make sure not to touch the diamond after it has been cleaned as you can leave a film on the stone from your fingers.
The first time you clean your diamond jewelry at home is always nerve-racking, so take your time and be cautious. Once you have cleaned your jewelry successfully, you will be more confident to try it again and will be able to take care of your diamonds and diamond jewelry in the best way possible. The best way to clean diamond jewelry is really the easiest way.