Pink diamonds represent some of the most elusive of all fancy color diamonds to ever emerge from the earth. While they can be found wherever diamonds are mined, the legendary Argyle mine from Australia produced more of them than anywhere else---about 90% of the global supply. But that doesn't mean they were abundant. Less than 1% of the now shuttered Argyle mine's output were pink diamonds.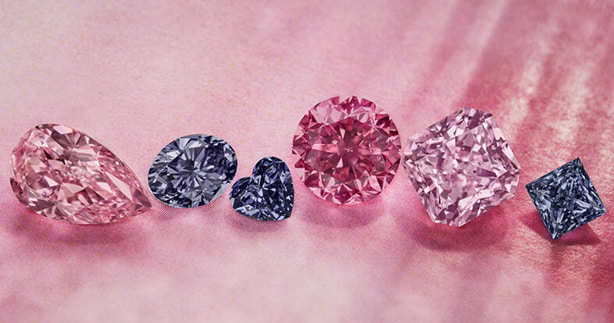 Six stones from the Penultimate Argyle Pink Diamond Tender 2020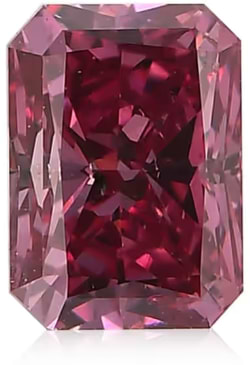 LEIBISH, Argyle 0.91ct, Fancy Vivid Purplish Pink Diamond

How rare are they? The Cape Town (S. Africa) Diamond Museum puts this spin on these delicate natural wonders. "Natural pink diamonds are as scarce as they are stunning. Only a limited number exist, and it estimated that only another 500 gem quality pinks remain to be discovered."
Mysteries of Nature
The hypnotic stones are also as mysterious as they are rare. While we can determine the cause of color in many other fancy color diamonds, the pinks remain enigmatic. One of the most convincing theories of pink color in diamonds involves the deformation of the crystal structure (called plastic deformation) which results in the stone being able to absorb light differently, thus emitting a pink hue. The mechanism behind this beautiful effect is not fully understood.

Of course as with any natural material, it is found in an almost limitless array of pink tints, many times with secondary colors, so they are identified as orange-pink, brown-pink, and so on. Pinks are produced in a wide range of clarity grades too. Pink diamonds are historically known to be quite included—and those inclusions tend to be dark.
Elusive for Centuries
Pink diamonds may not have been commonly known until celebrities made them a part of popular culture, but they are certainly nothing new.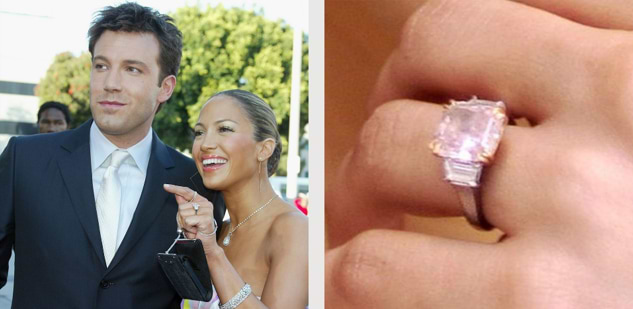 Ben Affleck with Jennifer Lopez wearing a pink diamond in 2002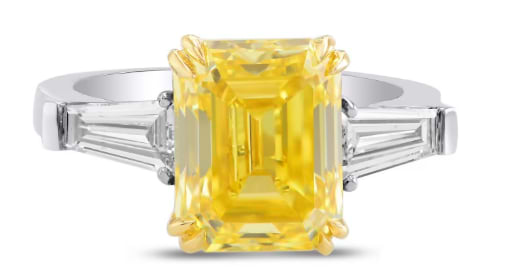 LEIBISH Fancy Vivid Emerald Diamond 3 Stone Ring
Royalty Knew all About Pinkies
Massive pink diamonds have been the prized reserve of royalty for eons.

The ancient Daria-i-Noor pink diamond is a table cut 186 carat light pink diamond. Worn by numerous potentates, it belonged to India's crown jewels until 1739, when the Persian army retrieved it and took it away. Today it is part of the Iranian Crown Jewels in Tehran.

Noor-ul-Ain, a 60 carat Golconda pink diamond was the focal point of Iran's Farah Pahlavi's wedding tiara, 1958
As Scarce as they Come
With their scarcity and the expected inclusions typical of natural pink diamonds, when one comes to market with dazzling characteristics, we throw all previous estimates of value out the window.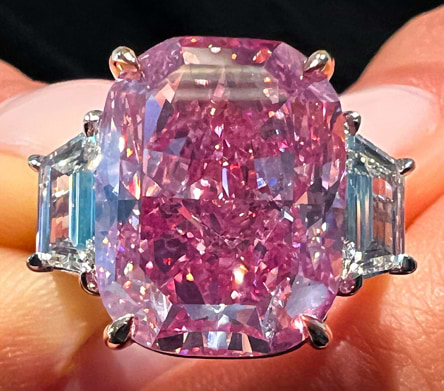 Eternal Pink Diamond Credit; NY Post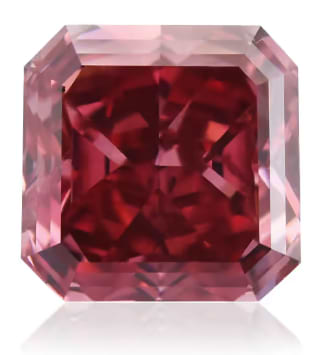 LEIBISH 0.48ct, Fancy Red Diamond
Eternal Pink Diamond
Recently the diamond world was set abuzz over news of a massive pink diamond called Eternal Pink that is soon to go under the hammer. Its clarity and color shoots this pink stone into its own stratosphere. It will be auctioned for US$35M or US$3.3M per carat, "the highest price per carat placed on any diamond or gemstone prior to its sale", Sotheby's says.
In the Beginning
Before it was the drop dead gorgeous jewel it is today, it began as a 23.78 carat crystal rough found in 2019 at Botswana's Damtshaa diamond mine. It took diamond manufacturer Diacore's master craftsmen over six months to cut and polish it. "It's the most vivid pink diamond ever to come to market", according to Sotheby's.
Soon to begin its world tour with stops in Dubai, Singapore, Taiwan, Shanghai, and Geneva is the stone that Sotheby's calls "one of the most stunning diamonds in the world." And they should. This 10.57 carat cushion cut stone is graded "Internally Flawless Fancy Vivid Purplish Pink Diamond---the most vivid pink diamond ever to come to market," according to the auctioneers.

What Will Buyers Say?
In a statement to WWD, Quig Bruning, head of Sotheby's Jewelry, Americas, remarked, "This color is the most beautiful and concentrated shade of pink in diamonds that I have ever seen or has ever come to market."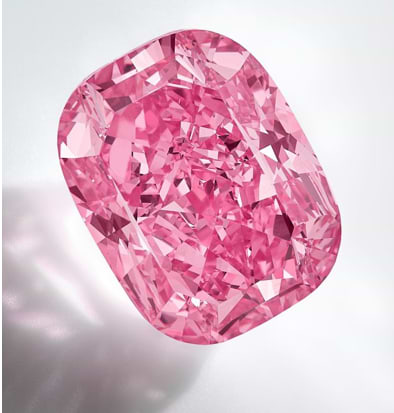 Credit Sotheby's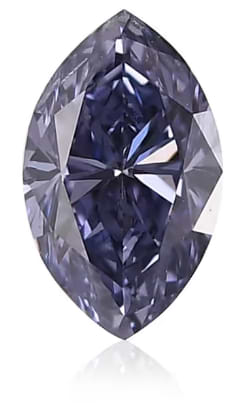 LEIBISH 0.29ct, Fancy Dark Gray Violet Diamond
We'll discover just what price collectors say it is worth on June 8th when Sotheby's holds its Magnificent Jewels auction in New York. ▼