We're endlessly fascinated in the jewelry collections auctioned from renowned personalities. For one thing, it opens a window into their private lives we'd otherwise never see. We discover their style and taste by seeing what they've collected throughout the years.
Traits of World Class Jewels
But not everyone's jewelry collection is worthy of great fanfare. In the making of a world class jewelry collection, we find that not everyone with money has taste. And then we know that quantity never trumps quality. Identifying scarcity and pedigree in a jewel is key to discovering its value after understanding its quality. So when we see best-of-the-best jewelry collections coming up for sale, we realize we're seeing an epic art form that's incomparable.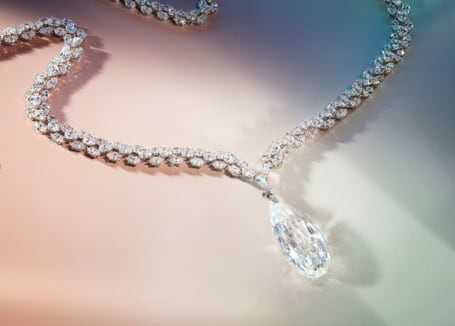 90 carat Briolette of India; Credit Christie's
Save the Date
Rare jewelry aficionados have already put the upcoming May 2023 auction of the late Austrian billionaire on their calendars—if not to bid, at least to watch with awe. The Horten Collection will go on sale in two live auctions held at the Four Seasons Hotel in Geneva with two online sales also held in May and November 2023.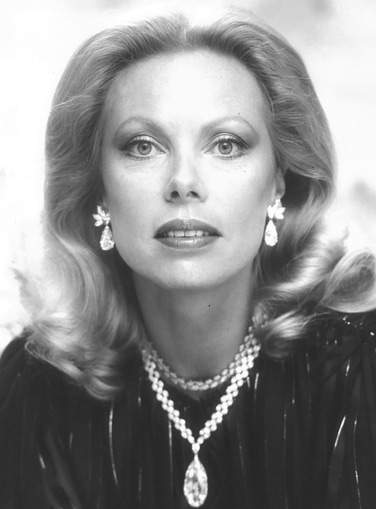 Horten wears the Briolette of India; Credit; Heidi Horten Foundation
According to Tatler magazine, "Heidi Horten, who died last year aged 81, curated the most exquisite array of extravagant jewels, including a 90-carat 'Briolette of India' diamond necklace by Harry Winston, originally sold by Cartier in 1909; a three strand natural pearl necklace by the jeweler (estimate US$7-10M) and the 25-carat Cartier 'Sunrise Ruby' and diamond ring (estimate US$15-20M).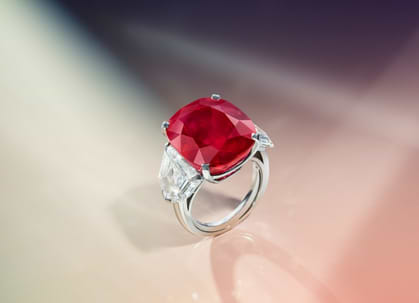 Sunrise Ruby and diamond ring by Cartier; Credit Christie's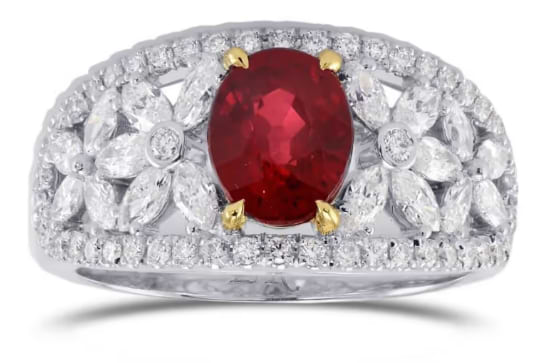 LEIBISH Unheated Ruby & Diamond Ring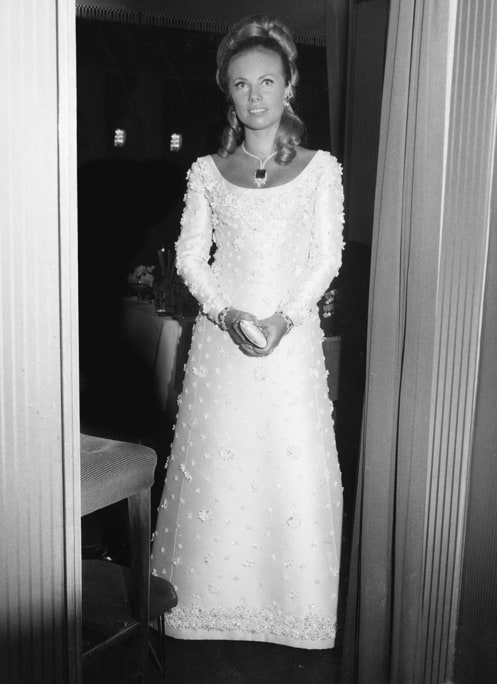 Wearing a 63 carat Emerald Necklace; Credit; Heidi Horten Foundation
Horten's jewelry collection reads something like the Who's Who of celebrity designers. She was fond of collecting work by Bulgari, Cartier, Van Cleef & Arpels along with Harry Winston.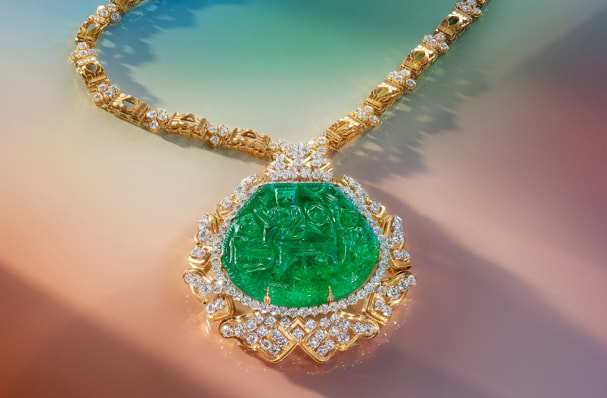 Great Mughal emerald and diamond pendant; Credit Christie's
With such sophisticated taste in jewelry it should come as no surprise that she was also an expert art collector. Whether it was wearable art or fine art, she had the 'eye'. Over her lifetime, she amassed a 500 piece art collection including works by Picasso, Chagall, Jean-Michel Basquiat, Warhol, Gerhard Richter, Georg Baselitz, and Yves Klein, among others.
What They're Saying
And pundits are at no loss of words in describing the upcoming sale at Christie's. British Vogue said, "This art collector's staggering personal jewellery collection would have made Elizabeth Taylor blush."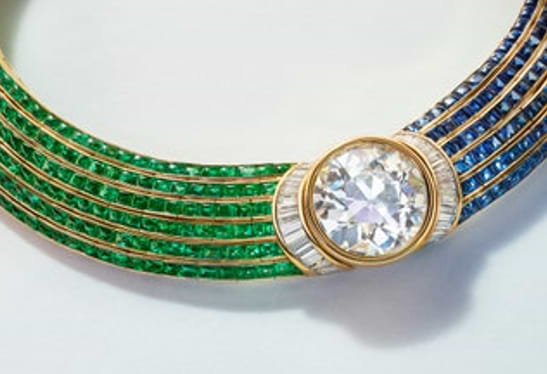 Bulgari Neckpiece; Credit Christie's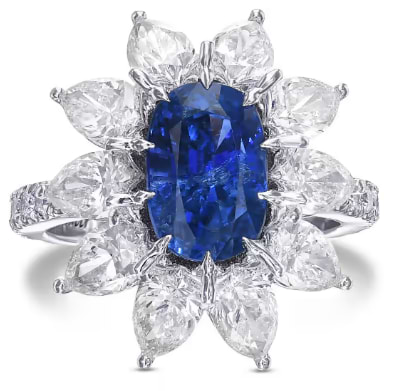 Extraordinary Unheated Kashmir Sapphire and Diamond Halo Ring
Rahul Kadakia, Christie's international head of jewellery expressed it perfectly. "This is the kind of collection that comes around once in a lifetime, and we're very proud to do it for such a good cause." Proceeds from the sale will go to charity with the bulk of it benefitting Vienna's Museum of Modern Art.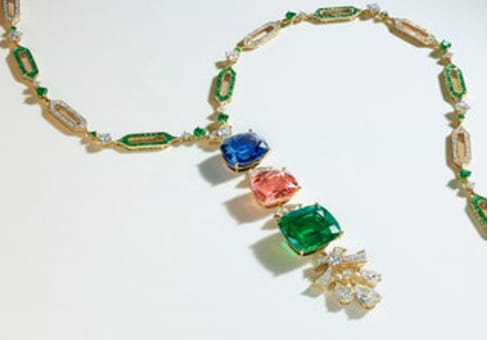 Credit Christie's
The 700 piece assemblage soars far beyond the jewelry auction of Elizabeth Taylor whose collection was a relatively modest 80 pieces. Her treasure trove included the famous 'Elizabeth Taylor Diamond', given to her by husband Richard Burton in 1968.
Another Priceless Jewel
This is not the first sale of her world class jewels---but of course it's the largest. In 2008, she sold her 35.56 carat Wittelsbach Diamond, (Der Blau Wittelsbacher) which had previously been part of the Crown Jewels of Bavaria, for US$24M. Its buyer, Graff immediately announced his intention to recut the historic blue stone to repair damage to its girdle and improve the color. In 2010 after recutting, it was renamed Wittelsbach-Graff diamond to a mixed reaction. But it evidently found favor with the former emir of Qatar in 2011 who snapped it up for "at least $80M" reports say.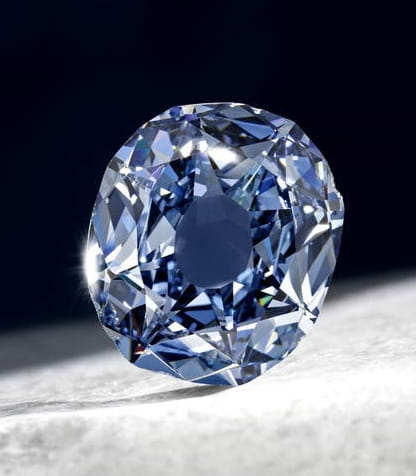 Wittelsbach-Graff Diamond; Credit NYT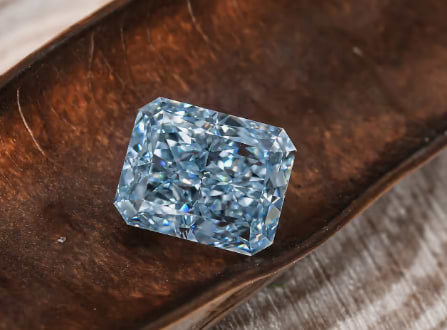 LEIBISH 3.50ct, Fancy Blue Diamond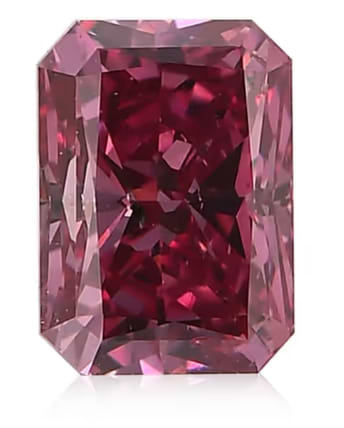 LEIBISH 0.91ct, Fancy Vivid Purplish Pink Diamond
Top This
Currently Christie's pre-sale estimate of the collection tops US$151M. It is positioned to surpass Christie's two previous record-smashing sales – the 2011 Elizabeth Taylor Collection sale earning US$ 91.4M and the 2019 Maharajas & Mughal Magnificence auction bringing in US$107.5M. ▼