Fancy color diamonds are found around the globe in an assortment of colors, from pink to red to orange to green to blue, and even black. While some colors like yellow and brown are somewhat "common," other stones such as pink and blue diamonds are not.
Each color is caused by a separate element. For instance, yellow diamonds contain nitrogen, which gives the stone its yellowish tint. Blue diamonds on the other hand receive their unusual color from boron. Most of the world's blue diamonds are mined in the Cullinan mine in South Africa.
Blue represents the color of the sky and the ocean. It symbolizes power, wisdom, knowledge, and faith.
Some feel the reason for their stunted popularity is in part due to their rarity and value. According to Robb Report, just because there are more headlines does not mean that there are more blue diamonds, instead "it means that more people have learned to appreciate them.
Some say the reason for their stunted popularity is in part due to their rarity and partially because of their steep prices. Many were simply not familiar with the blue version of "a girl's best friend." Since blue diamonds are among the more rare colors of fancy color diamonds, they are priced accordingly. Nevertheless, today, those with the means appear to be seeking out these very special specimens more than ever before.

The Most Expensive Blue Diamonds
In 2013, the world has been waiting anxiously for one of the rarest Fancy Color Diamonds to be offered on the auction block; The Premier Blue – the world's largest Round Internally Flawless Fancy Vivid Blue diamond weighing in at 7.59 carats.
Sotheby's estimated the blue diamond to fetch around $19million, which would have made it the world's most expensive diamond ever sold per carat.
Based on this estimated price by Sotheby's, this would be the first diamond to break the $2.5million per carat mark. Previously record-breaking prices for blue diamonds have been in 2011:
In October 2011, also in Hong Kong, a 6.01 carat Fancy Vivid Blue commanded the price of $1.687million per carat.
Just one year earlier, in October 2010, a 10.95 carat Fancy Vivid Blue set the highest price paid for a blue diamond at $1.439million per carat, this time in New York.
The only Fancy Color Diamond that ever broke the $2million per carat ceiling was the 5.00-carat Fancy Vivid Pink in December 2009 at $2.166million per carat, which back then broke both prices per carat and overall price for a pink diamond ever sold.
The results were published the following morning on October 8th, and the Fancy Vivid Blue didn't reach the reserve price of $19million. The highest bid was $16.12million. Although it did not reach the minimum of $19m, it did, in theory, break new grounds for a Fancy Vivid blue. Should it have been sold at the bid of $16.12m, it would have set the record at $2.124m per carat, breaking the current record that was set in October 2011.
Leibish founder, Leibish Polnauer, commented on the results saying: "Everything in life has a price and a limit, even a vivid blue."
So we wonder, how did the seller come to a $19m valuation? This in no way means that the Fancy Vivid Blue has no potential for further appreciation; it simply means that this is what the market bears at this point in time.
This will reiterate that Fancy Color Diamonds continue to show a consistently higher rate of return as alternative investments. We look forward to the next exciting auction for an important Fancy color diamond which will take place back in Geneva, where a 59.60 carat Fancy Vivid Pink is going back on the block that has been tucked away since 2007. That is estimated to sell for $60million, which, if it goes through, will be the highest price ever paid for a diamond in an auction. Are we starting to see pink or blue?
The blue beauty joins several other famous stones as the world's most famous and desired blue diamonds. These diamonds include the Hope Diamond, the Wittelsbach-Graff, and the BVLGARY Blue.
The first of these three exceptional gemstones is The Hope Diamond. It was originally over 112 carats, but after having been cut a number of times, it is now a 45.52-carat Fancy Deep Blue stone. The Hope Diamond has a fascinating and quite complicated history, which has landed it in the Smithsonian where it remains today. The Hope Diamond is likely the most famous blue diamond in the world today.
The second is the Wittelsbach-Graff Diamond. It is a 31.06-carat Fancy Deep-Blue Diamond with an Internally Flawless clarity grade. Mr. Laurence Graff purchased the Wittelsbach, which was then renamed to Wittelsbach-Graff in 2010 for USD46 million. This stone still holds today the record for the Highest price paid for any diamond and any jewel sold at auction.
Lastly, the Bvlgari Blue was sold at Christie's New York in October 2010 for USD 15.7 million ($1.4 million per carat). This diamond was last purchased in Rome in the late 70s by an anonymous private collector for a mere one million. Considering the price appreciation over the years, it is phenomenal!
The staggering price of this precious Blue diamond reminds us all how very valuable and highly sought-after Blue diamonds are. There is no doubt regarding the diamond's beauty as well as the undeniable value of Colored Diamonds.
In 2014 the 13.22 carat blue diamond became by far the largest blue diamond of such a vivid color ever to be sold at auction. Other large blue diamonds, such as the Wittelsbach Graff, can't compare as the color was not near this saturation.
The previous record for such a stone was held by the 10.95 carat fancy vivid blue, which also happened to have been sold by Christie's back in October 2010 in New York. That diamond was sold for a record price of $15.76 million, or just over $1.44 million per carat. The world record per carat for a fancy vivid blue was sold a year earlier at $1.69 million per carat for a 6.01 carat fancy vivid blue diamond.
The Sky is the Limit when Passion Investments are Made
Since 2007, every fancy vivid blue diamond sold at auction above five carats in size fetched at least $1.2 million per carat, and the average per carat for the eight stones sold during this period amounts to just over $1.4 million per carat. The closest rare diamond in size and shape sold most recently is the Orange, Fancy Vivid, pear shape, 14.83 carats sold in Geneva by Christie's back in November 2013. The stone sold for $2.4 million per carat. It is true that one is orange while the other is blue, but both are the rarest in their respective color intensity, which is fancy vivid, and both are a pear shape. Passion investments connect to the individual, and that is precisely why we can see such significant prices paid for such fantastically rare colors.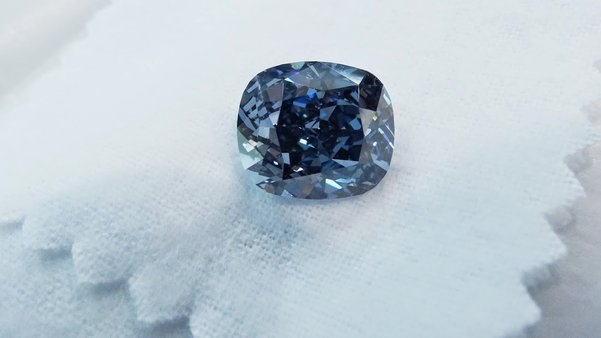 The 12.03 carat natural fancy vivid blue diamond with an IF clarity
Blue Diamonds Sold at Auction
It is not every day that we see a true natures gift being offered on the market.
Though the Oppenheimer Blue may be the largest vivid blue diamond ever to be auctioned, there have been other types of blue diamonds in various sizes that have been sold at auction over the years.
In 1983, a blue diamond ring that belonged to Marie-Antoinette was auctioned, in 1984 the pear-shaped Tereshchenko (42.92 carats) was sold, and in 1995, the 13.78-carat Begum Blue was bought. More recently, the famous Wittelsbach Blue (31.06-carat deep blue diamond) made headlines when in sold in 2008.
Genuine blue diamonds, especially those of superb quality and size, may only be available to those with deep pockets, but the mere fact that they are now on the radar of those who have the means but still only acquire items of importance and value, goes to show how significant these blue gems are and the weight they hold for the future.