The 13 Carat Blue Diamond Sure to Represent the Largest Passion Investment Ever
Blue represents the color of the sky, and ocean. It symbolizes power, wisdom, knowledge and faith. The term 'passion investment' will likely be added to its list of idiosyncrasy next month when the 13.22 carat Fancy Vivid Blue Flawless Diamond is auctioned off in Geneva.
Christie's estimates the diamond to be sold for $22-$25 million. However, with such a rich color, large size, and high clarity, this stone holds potential to be the most expensive diamond per carat ever sold at auction. I wonder if the new buyer will rename it "The Blue Sky Diamond" or "The Blue Ocean Diamond."
A Record Price Seen on the Horizon
The 13.22 carat blue diamond is by far the largest blue diamond of such a vivid color ever to be sold at auction. Other large blue diamonds, such as the Wittelsbach Graff, can't compare as the color was not near this saturation. The previous record for such a stone was held by the 10.95 carat fancy vivid blue, which also happened to have been sold by Christie's back in October 2010 in New York. That diamond was sold for a record price of $15.76 million, or just over $1.44 million per carat. The world record per carat for a fancy vivid blue was sold a year earlier at $1.69 million per carat for a 6.01 carat fancy vivid blue diamond.
History Repeats Itself
In the last 16 years, only 16 fancy vivid blue diamonds above five carats have been sold at auction. Only three of the 16 are recorded between 10-11 carats. This by far will be the largest ever to be sold at an auction with such color. Two of the three above the 10 carat mark sold back in 2004. The price per carat at which these were sold at is today is 'laughable,' and at today's valuation shows significant return on investment. A 10.80 carat fancy vivid blue diamond sold on April 26, 2004 for just $393,000 per carat, and a few months later, on November 17, 2004, a 10.62 carat fancy vivid blue diamond sold for $415,000 per carat. Going forward in time, in October 2010, a 10.95 carat fancy vivid blue diamond sold for $1.44 million per carat! This is a significant increase in value in just six short years (well over three times the value or about a 250% increase).
The Sky is the Limit when Passion Investments are Made
Since 2007, every fancy vivid blue diamond sold at auction above five carats in size fetched at least $1.2 million per carat, and the average per carat for the eight stones sold during this period amounts to just over $1.4 million per carat. The closest rare diamond in size and shape sold most recently is the Orange, Fancy Vivid, pear shape, 14.83 carats sold in Geneva by Christie's back in November 2013. The stone sold for $2.4 million per carat. It is true that one is orange while the other is blue, but both are the rarest in their respective color intensity, which is fancy vivid, and both are pear shape. Passion investments connect to the individual, and that is precisely why we can see such significant prices paid for such fantastically rare colors.
Natures Perfect Gift
It is not every day that we see a true natures gift being offered on the market. I am sure that the seller had a difficult time realizing that it was time for the next individual to enjoy and share the same passion with a perfect stone. This diamond is now part of an exclusive club of fancy color diamonds called "a class of their own". As we said before any fancy color diamond above five carats in size is extremely rare, and this being 2.6 times bigger, is truly "in a class of its own."
Investment Analysis
Recalling back the Hong Kong September 2013 auction where the 7.59 carat brilliant shape Fancy vivid Blue IF named the Premier Blue almost sold, its highest bid was at $2.12 million per carat. The pear shape blue is 1.73 times bigger, and it is Flawless compared to the Premier, which was Internally Flawless. Although this is only one clarity grade higher, it can also be looked at as the mere difference between almost perfect and ultimate perfection. The highest per carat for a vivid blue diamond was $1.69 million back in 2011, and that was for a 6.01 carat stone. If we attempt to calculate the average, it comes in at $1.905 million per carat which evaluates our stone at $25.18 million, which is the high end of the estimated value set by the auction house. If we use the low end of $1.69 million, we get $22.34 million, which is close enough to the low estimate set by the auction house. If we now use the highest price per carat offered on the premier, we get $28.02 million. If we go all out and extreme on estimates and use the per carat price paid for the similar size, pear shape Fancy Vivid orange (although it is a complete different color), sold for just under $2.4 million per carat, we get a total price of $31.73 million for the stone. The difference between the orange and the blue diamond is obviously the color, and the fact that the blue diamond is Flawless, while the orange was a VS1 quality. Going from VS1 to Flawless is only 4 clarity grades apart, but with perfection both the rarity and the monetary value are exponential. If the total price for the orange paid was $35.5 million, we wonder… how low, or should we say how well is Christie's attempting to manage expectations for this rare vivid blue diamond. Based on the above analysis, I would say they are keeping expectations low so that results will soar extremely high.
Passion Investments Can Make Financial Sense
As one investor once said: "I saw an investment opportunity, and I took advantage of it.", Will somebody else see the same opportunity in this stone as well? We talk about passion and investments like we talk about black and white…. One being an emotion, while the other is intellectual; opposites. But there is also the saying that says that "opposites attract". It can in this instance as well.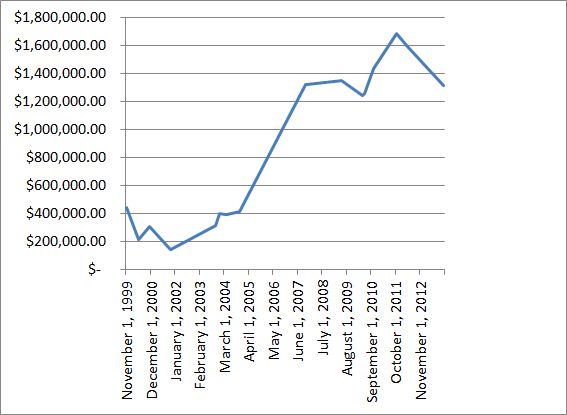 We have numbers ranging from "just" $21 million, on the low end, set by the auction house, while we have an actual high of $35.5 million set by a similar stone (shape, size and depth of color), but less perfect. What can perfection cost? $35 million, $40 million, $45 million or more?