There are some jewelry items that every girl should own, whether she is young or old; short or tall; big or small. It is true that some jewelry trends go in and out of style, only look good on certain body types or skin tones, or are only suitable for certain occasions. However, there are plenty of other super classy items that will not only serve you for your entire lifetime (assuming you don't lose them of course) but they will also complete your wardrobe time and time again. That is why you simply must have these in your collection. Let's take a look at our list of what, if you don't already have, you need to get.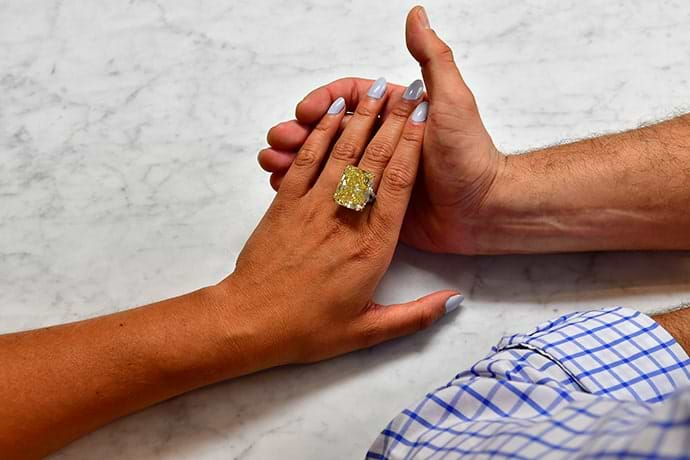 Admiring a yellow diamond ring, up close
1. Diamond Studs
It simply does not get more elegant or classic than a pair of gorgeous diamond studs. Now, we know that diamond earrings are not in everyone's budget, so here are several ways to make this staple jewel more accessible to you. The first is to opt for smaller diamonds; diamonds are still diamonds and even though they are smaller the studs will still have the same overall effect, which exudes sophistication and confidence. The second is to select a pair of studs comprised from a number of melees (much smaller stones). This will bring down the cost a lot. Lastly, you can opt for other gemstones that either are similar to diamonds or have a completely different look but still make a great pair of studs.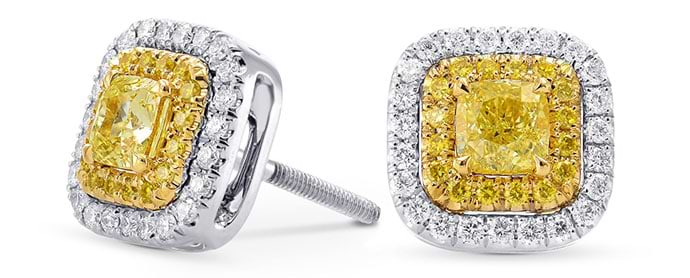 Fancy Intense Yellow Cushion Double Halo Earrings (1.11Ct TW)
2. Cocktail Ring
Some may be surprised to see this "loud" item on this list, but there is a reason the cocktail ring is so crucial. Believe it or not, a large and/or flashy ring can make an outfit. That's right, with the right ring, you can get away with a simple black or another solid color getup. Cocktail rings don't have to be super chunky to be great. They can be a bold color, a combination of several bold colors, or just boast an unusual appearance. The best part is that cocktail rings don't have to cost a fortune. Cocktail rings can sport inexpensive semi-precious large stones, a collection of smaller colorful precious stones, or can include diamonds to offset a simpler stone like onyx.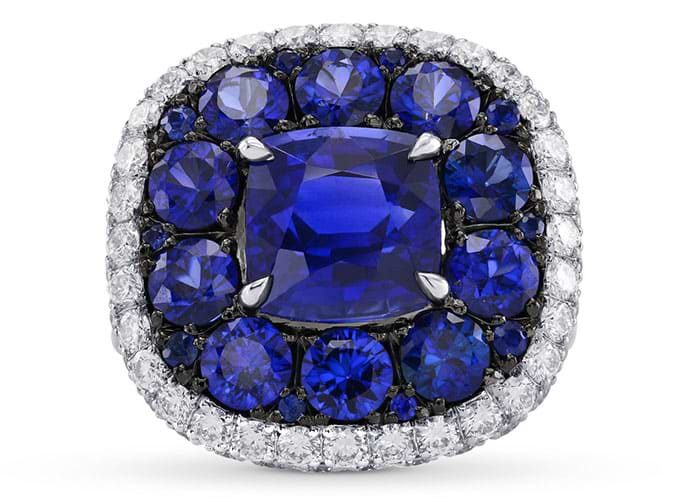 Royal Blue Sapphire and White diamonds Extraordinary Double Halo Ring (8.56Ct TW)
3. Long Necklace
The next item that really should be part of every jewelry collection, in some form or another, is a long necklace. Now, some say that the long necklace has replaced the pendant necklace, but we beg to differ. They are two separate creatures and can be worn interchangeably. The long necklace is a fun addition to an array of outfits. If you choose something neutral, it will serve you the most. It can be a simple metal necklace like gold, or it can be a long strand of pearls, or a long pendant necklace.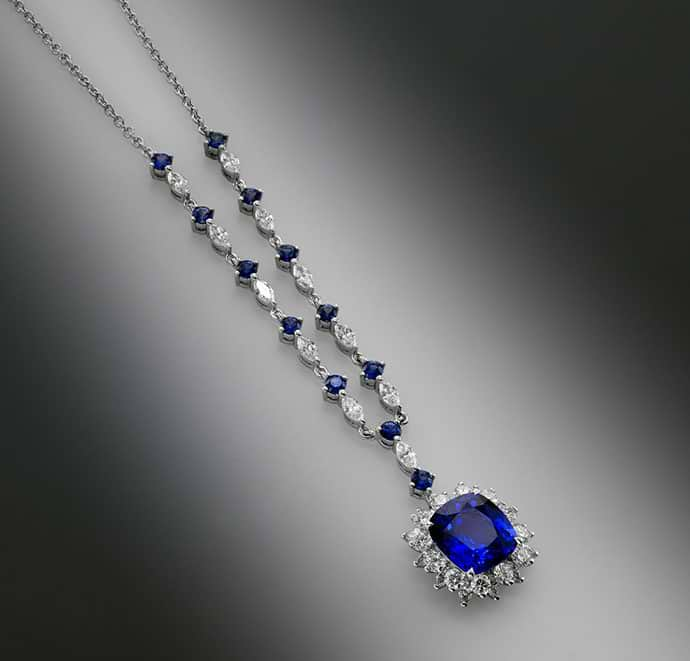 Vivid Blue Cushion Sapphire & Diamond Necklace (6.29Ct TW)
4. Hoop Earrings
Similar to the way in which long necklaces differ greatly from pendant necklaces, so too hoop earrings are completely different from studs. Yes, they are also earrings, but one should have both; a pair of studs and a pair of hoops. Studs are work-friendly, can help you transition from day to night, and can even be quite fitting for a fancy up-do, but hoops tell a different story. They are livelier, more flirtatious, and are full of personality. Whether you choose simple metal hoops, short hoops that hug the ears, or diamond-studded ones, you are sure to turn heads.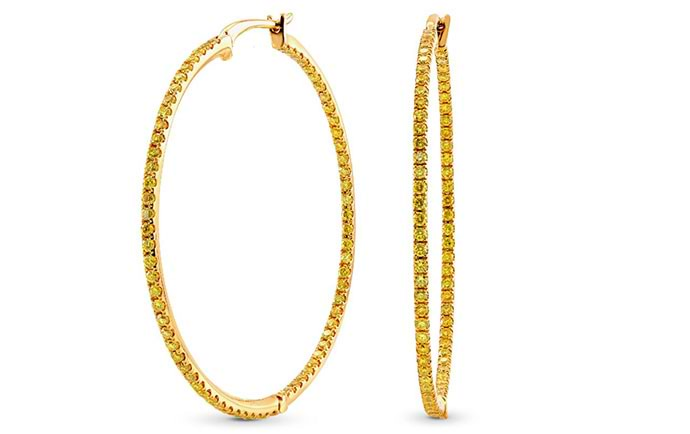 Fancy Vivid Yellow Diamond Pave Hoop Earrings weight 1.24ct set in 18K Gold (1.24Ct TW)
5. Bracelets
The second to last item on the list is a bracelet. We are purposely being vague here because the important part is to just have a bracelet in your collection. You can choose from trendy cuff bracelets to a stack of bangles to a classic tennis bracelet. It really depends on your taste and budget.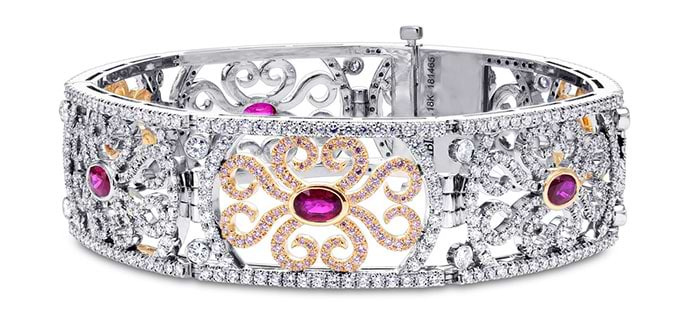 Extraordinary Ruby & Pink Diamond Bracelet (10.61Ct TW)
6. Stackable Rings
Lastly, we have yet another ring. After earrings, rings are the next piece of jewelry that gets seen the most. Regardless of whether or not you have a stunning engagement ring and possibly also a wedding band, everyone should also have several small stackable rings. They are fun to play around with as you can mix and match to your heart's content. Some can be plain metal featuring different designs, while others can be lightly studded with color gemstones or diamonds.



Milgrain Ruby and Diamond Band Ring (0.50Ct TW)
There you have it; 6 items that absolutely must be in your jewelry collection. If you can't purchase them just yet you can improvise until you are ready. The idea is to get the look that these timeless pieces allow you to have. There's always room for improvement, so you can start simple and work your way up when the time is right.
What are you waiting for? Start searching for your perfect piece of jewelry, now!