It's always fun and exciting to create your own piece of jewelry, especially Fancy Color Diamond jewelry, but for some, the process can also be stressful and confusing.
With so many colors, shapes and sizes to choose from, and a whole plethora of jewelry designs as well, all of it can be just a tad overwhelming.
This is why at Leibish, our goal is to make this journey as smooth and enjoyable as possible.
Here is a simple, step-by-step guide to creating your own piece of jewelry with Leibish:
Step 1: Choosing the Center Stone
When creating fancy color diamond jewelry, it's important to know that at Leibish each and every setting is customized to suit that specific stone.
This is because with color diamonds, literally every stone is different and each one requires a setting that will best showcase the center stone and maximize it's color.
When choosing a center stone, many people tend to get caught up in the small details, such as the make of the stone and the clarity, and while those aspects are important when looking for a colorless diamond, with fancy color diamonds these qualities are actually quite negligible. With Fancy Color Diamonds, the color is the most important characteristic, and should be your primary focus.
And unless you are looking for an investment grade stone, one of the best pieces of advice we can offer is to choose a stone with a color that you love!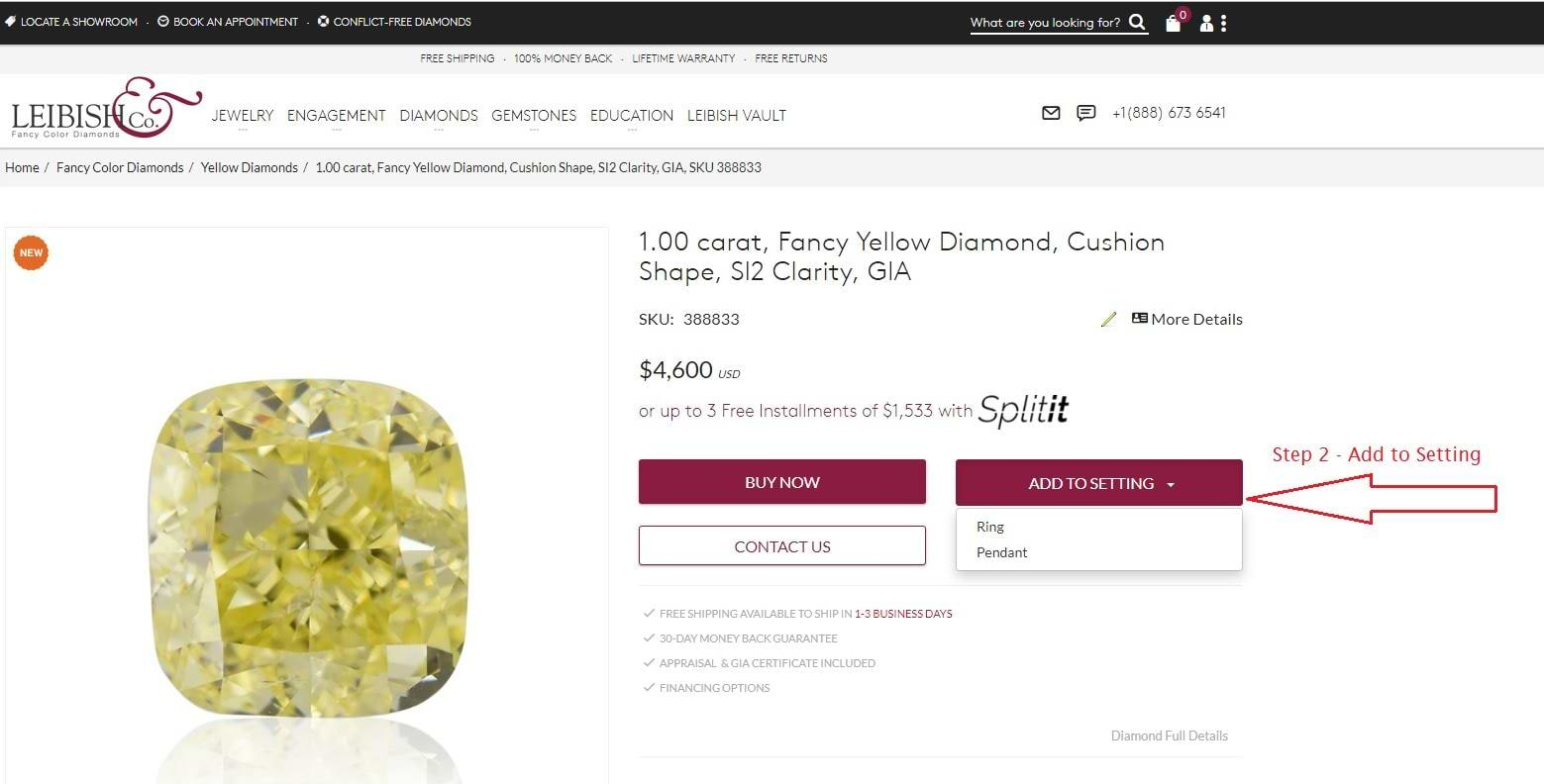 Step 2: Choosing The Setting
Okay, great! You have now chosen your center stone and want to set it in a piece of jewelry. Once you're on the page of the stone you'd like to purchase, simply click the button "Add to Setting" and choose what kind of jewelry you want (ring or pendant, for example).
When deciding on the setting, there are a few tips to keep in mind:
Color of the center stone + Metal color
When setting color diamonds, it's vital to use a metal color that will maximize the color of the center stone: choosing basket and prongs in the right color is essential. For example, with yellow diamonds it's recommended to use yellow gold for the basket + prongs, with pink diamonds, rose gold is recommended, with green diamonds, white gold (or platinum) is recommended. If you are unsure what color gold will work best with your chosen center stone, reach out and contact our team so that they can help you make the right decision. One thing to remember, however, is that the rest of the ring can be made in the metal color of your choice, such as a yellow diamond can be set in a platinum ring setting, with only the prongs and basket in yellow gold.
Diamond Size
If you're the kind of person who wants to make your diamond look even bigger, the best way to do this is to choose a setting with a diamond halo. (A halo is a circle of diamonds that surrounds the center stone). While most traditionally halos are made of colorless/white diamonds, when working with a pink or yellow center stone, you can choose to use a halo of the same color, which gives an illusion of a larger center stone. When choosing a halo of colorless diamonds, it will also give the impression of a larger center stone, but will also create a contrast in color which is beautiful as well.
Engagement + Wedding Ring
When purchasing an engagement ring, it's a good idea to think about the matching wedding band. Especially if you'd like the two rings to sit flush together and be worn on the same finger. This is because many ring designs don't allow for a straight band to sit nicely beside it and often will leave a small gap between the two rings. Ideally, if you can purchase the engagement ring and wedding band together, it's best to do so.
Ring Size
It may seem obvious, but for many people this is the last detail they think about when making a ring. If you don't already know your accurate ring size, it's best to go to a local jeweler and get sized. While it's true that most rings can be re-sized at a later date, some designs are problematic, and it's always smart to get it right the first time.
Custom Designs
In addition to the extensive selection of beautiful jewelry designs that Leibish has to offer, if you are looking to create something truly unique, our design team will be happy to work with you and create a bespoke design, exactly the way YOU want it. Whether you'd like to take ideas from existing styles that you've seen online or you want to make something from scratch, just let us know what you'd like and we will get to work on turning your dreams into reality.
Mock-Up Images
When choosing a setting sometimes it can be hard to visualize what the final product will look like. This is why Leibish offers to provide customers with a mock-up image of the design. Once you've chosen a stone and setting, simply contact us and we'll be happy to arrange a complimentary mock-up image.
Step 3: Completing Your Order + Manufacturing
Terrific! Now you have chosen your stone and setting and you're ready to make your purchase. Your order may be completed online or by contacting our team directly; whatever is most comfortable and convenient for you.
When creating a piece of jewelry with Leibish, the entire process takes up to 22 business days (from when payment is received) + an additional 2-5 business days for shipping. If you need your piece quicker than this time frame, simply let us know and we will do our best to make it work.
Once your jewelry goes into production it will go through various stages, including scanning the stones, creating a 3D model (a.ka. renderings), printing the model, casting, assembly, setting, and finally the last stage is finishing and QA. Once your jewelry is complete, our photography team will take some pictures and a video. You may also request to see the video and/or pictures before your piece is shipped.
When creating custom designs you are also welcome to request the 3D renderings for review and final approval. At this point in the process small changes can still be made to the design and often seeing the renderings help bring the entire piece to life in a way that is more tangible and vivid than the mock up.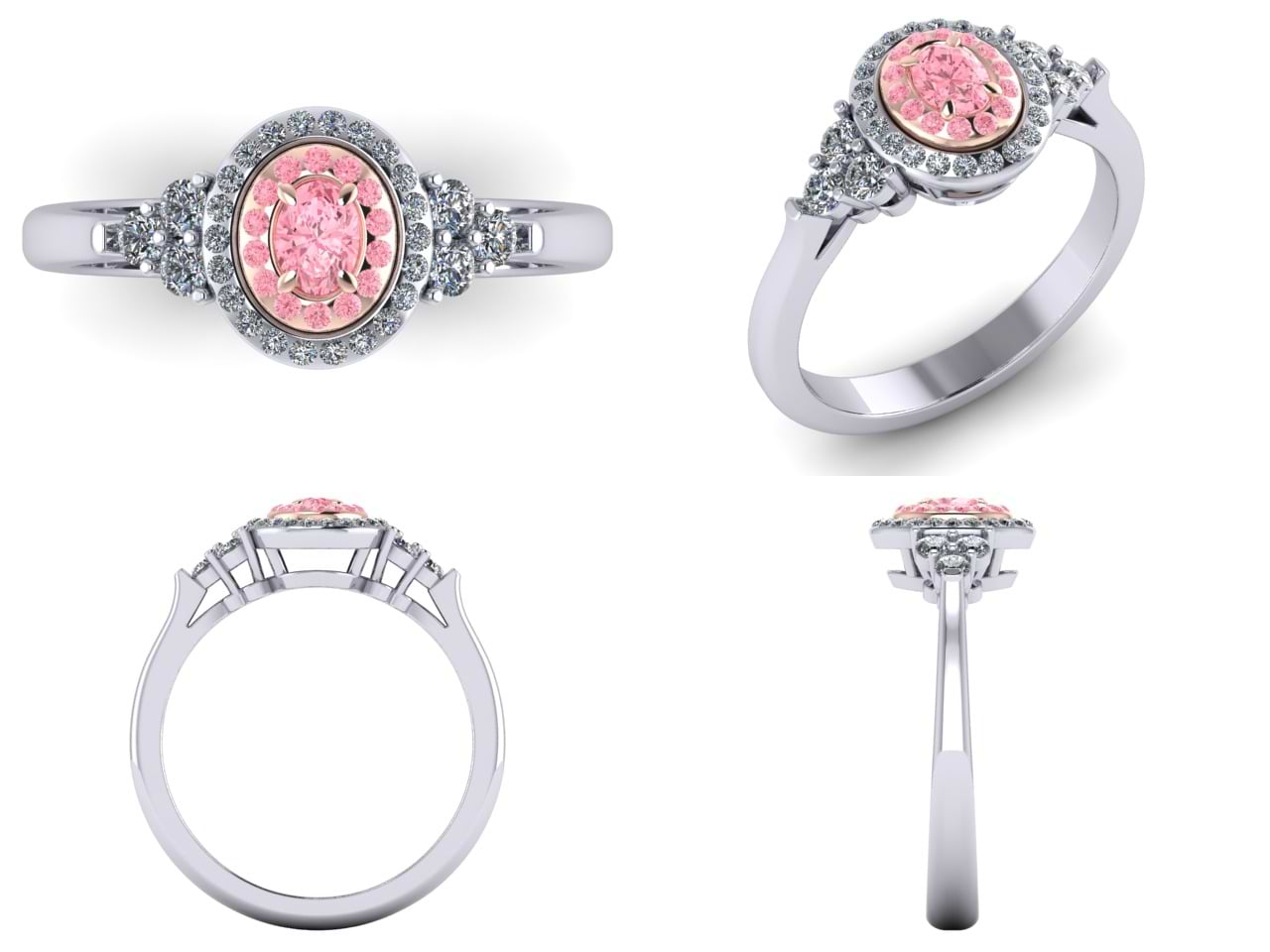 Example of Ring Renderings
Things to Keep in Mind
With today's advanced technology and super-convenient online shopping it's good to remember that our team at Leibish is still here to help every step of the way, if you need us.
While many companies may shuffle customers between customer service and sales agents, at Leibish, you will always have one person who is YOUR person, and they are always available to answer any and all of your questions.
Feel free to consult, ask advice, request additional photos, and discuss any concerns you may have, because at the end of the day, if you're happy, we're happy.
It's as simple as that.