Blue Diamonds – a Timely Color for the Year of the Dragon
The rapid growth of China into an economic powerhouse coupled with expatriate Chinese communities in virtually every corner of the world has resulted in Chinese culture becoming ubiquitous.

Chinese New Year for 2012 was held on January 23 and is represented in the zodiac by the legendary animal, the Dragon. Consequently, according to the Chinese Zodiac, from 23 January, 2012 till 9 February, 2013 is the Year of the Dragon. The Year of the Dragon is considered one of the luckiest years in the Chinese Zodiac; it is one that brings happiness and good fortune.
The Dragon is a mystical creature that has been esteemed since ancient times. It is believed to transfuse vitality, courage and heroism to the beholder and symbolizes power, excellence, divinity, and nobility.
The twelve year cycle of animals in the Chinese Zodiac always associates the animal with one of the five elements – Wood, Fire, Earth, Metal, and Water – by which the animal's intrinsic nature is tempered.

This year, the Dragon is associated with the elemental sign of Water. The Yin of the Water is the perfect foil to the most potent symbol of Yang – the revered Dragon. Water, in Taoist thought, represents a flexibility and softness. These characteristics can be used to calm the power and fearless temperament of the Dragon.

To represent this association, the Water Dragon is often depicted either completely in blue or with blue eyes. Blue is a color that is much coveted in China as it symbolizes immortality. Many clients at LEIBISH have referenced the strength, nobility, and good fortune of some blue colored diamonds that hint to eyes of the water dragon.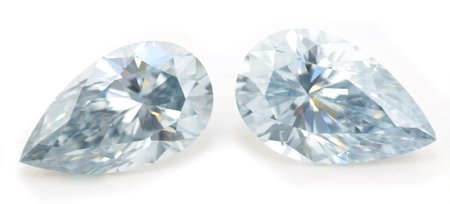 Eyes of the Water Dragon

Just as the Water Dragon is believed to imbue water elements to those it "touches," a similar thing may be stated about blue diamonds. These very rare and expensive stones display a nobility all their own. They often accompany gray diamonds as a secondary color. Pure, natural blue diamonds are very rare and very expensive; especially larger examples of these stones. Many jewelers have never laid their eyes on a blue diamond.

However, given that this year is the auspicious Year of the (Water) Dragon, this rare treat is undoubtedly a timely purchase; especially when you consider the investment potential of fancy blue diamonds. Fancy blue diamonds have exhibited outstanding price resilience in times of crisis and outperformance in times of economic strength, with prices having exceeded USD1,000,000/carat.
Just like the Water Dragon that appears only once every sixty years, rest assured that the owner of a fancy blue diamond would possess a similar rarity. And given that this year is the auspicious Year of the (Water) Dragon, this rare treat is undoubtedly a timely purchase.