The Heart shape is the ultimate symbol of romance. It is essentially a pear-shaped diamond with a notch cut into the rounded end. When looking for a Heart shaped diamond, it is important to look for a stone with an even shape and a well-defined outline.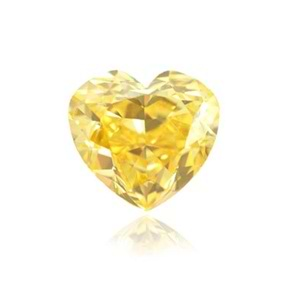 The Heart belongs to the Round-Edge Fancies cut type. It is a quite difficult shape to contour as the top two shoulders must be perfectly even. Also, to polish the crevice is known a difficult task. Common variations of the Heart shaped diamond are the Heart Brilliant and the Heart Modified Brilliant.
Below you can view a gallery of Heart shape diamonds in the many styles they appear:
































Among the world's most famous diamonds you can find the following heart shaps diamonds:
The Heart of Eternity, 27.64ct Blue diamond, The Gruosi Diamond, a 115.34ct Black diamond, The Blue Heart Diamond, a 35.27ct Blue, and The Royal Purple Heart, a 7.34ct Fancy Vivid Purple diamond.
Learn more about the other common Diamond shapes: