Investors See Potential in Blue
As news broke out late Friday afternoon about the results of the Petra Diamonds auction, some relief was felt by those that held their breath since the actual announcement of the 29.62 carat rough blue diamond which was found only three weeks earlier on January 21st.
Petra Diamonds Cullinan mine is known for its rare blue diamond findings. The latest auction in South Africa this past Friday resulted in a significant appreciation in price for a rough blue diamond. Not knowing what yield will come out of a particular stone, is a big risk that apparently, investors are willing to take. This time around, the buyer has been revealed, unlike previous auctions by Petra. Cora International NY, a very well known Diamond dealer, who specializes in Fancy Color Diamonds, is the buyer.
The 29.62 carat rough was sold for a sum of $25,555,555 or $862,780.38 per carat. I guess Cora saw something magical in the stone that will yield a significant return on the investment. The mystery surrounding the stone is what shape, size and clarity they can achieve. It seems some might be willing to reconsider Valentine's Day true color from red to blue.
To put things into perspective, the previous rough found and sold by Petra was on May 24, 2013. The Blue rough was 25.5 carats and sold for $16,910,180 or $663,144.31 per carat.

Headlines around the world read that the market assessed that the buyer over paid by about $9 million. Though, once polished, the 7.59 carat Fancy Vivid Blue Brilliant Round Internally Flawless diamond received the highest bid ever of $16.2 million ($2.124 million per carat), but failed to sell only because of the $19 million dollar reserve. Still, this stone has since sold.


It now seems that the buyer back then knew something that the rest of us did not. Since the last rough was sold on May 24, 2013 and until the recent sale on Friday, the rough price had a 40% increased on an annual basis (30% for the nine months between the two rough stones). Any professional investor would gladly take an annualized return of 40%. I can safely further assume, that if Cora international, being such a big player in the industry was willing to pay such a price for a rough, then it seems that the market indication is telling us that there is further price appreciation in the near future for such stones.
Going a little further back in history, Petra extracted a 26.58 carat rough blue back in 2008, which subsequently yielded a 7.03 carat, Flawless, Fancy Vivid Blue which sold for $9,488,755 or $1.35 million per carat in May 2009 at Sotheby's, making it the highest priced (per carat) paid for diamond by that time (since then the record has been broken several more times). The stone has been renamed "Star of Josephine" by its new owner.
Also in 2008, a 39.19 carat rough blue was sold for a sum of $8.8 million or $224,547.07 per carat.
The rough prices since 2008, going from $225k per carat to $663k per carat in 2013 and now $863k per carat in 2014, show a net increase of 283% increase in value in just 5.5 years, and that is on the rough alone!
If we further analyze the price of cut diamonds since 2008, the 7.03 carat "star of Josephine" sold for $1.35 million per carat, to the theoretical price achieved for the "Premier Blue" back in October 2013 in HK of $2.124 million per carat for the 7.59 carat round brilliant diamond, it showed a 57.3% increase in 5 years, also a significant return.
The most expensive Fancy Color Diamond that sold (per carat) up to now was the "Orange" back in November in Geneva, achieving a nearly $2.4 million per carat. We are confident to say that a new world record per carat will soon be broken once again.
Related Diamond Articles
Natural Fancy Blue Diamonds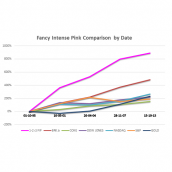 Color Diamond Investment Value Over The Years
Blue Diamond Auction - 25 Carat Blue Diamond Sells for Over $16.9 Million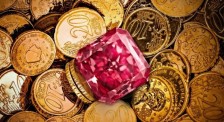 Colored Diamonds Compared to Other Investment Opportunities