For those of you who may have missed the Oscars on Sunday night, this year's ceremony wasn't just about entertainment but also focused on important values such as equality and women empowerment, as well as the new opportunities and possibilities that exist today, that we didn't have in the past.
Epitomizing these values and virtues was the true star of the night, Lady Gaga who won the Oscar for her brilliant performance of "Shallow" with Bradley Cooper.
From the moment Lady Gaga stepped on stage to receive her award, all eyes were captivated by the iconic 128 carat "Tiffany Yellow Diamond" decorating her decolletage. This diamond, full of history and heritage, is believed to have originated in the Kimberly Mine of South Africa back in 1877, polished from a rough diamond with a weighing a whopping 287.42 carats.
In 1897 the Tiffany Yellow was polished by their world-renowned gemologist, George Kunz, who transformed this extraordinary piece of nature into a stunning 128 carat cushion shape, old mine cut diamond. This diamond is considered one of the world's largest yellow diamonds ever cut.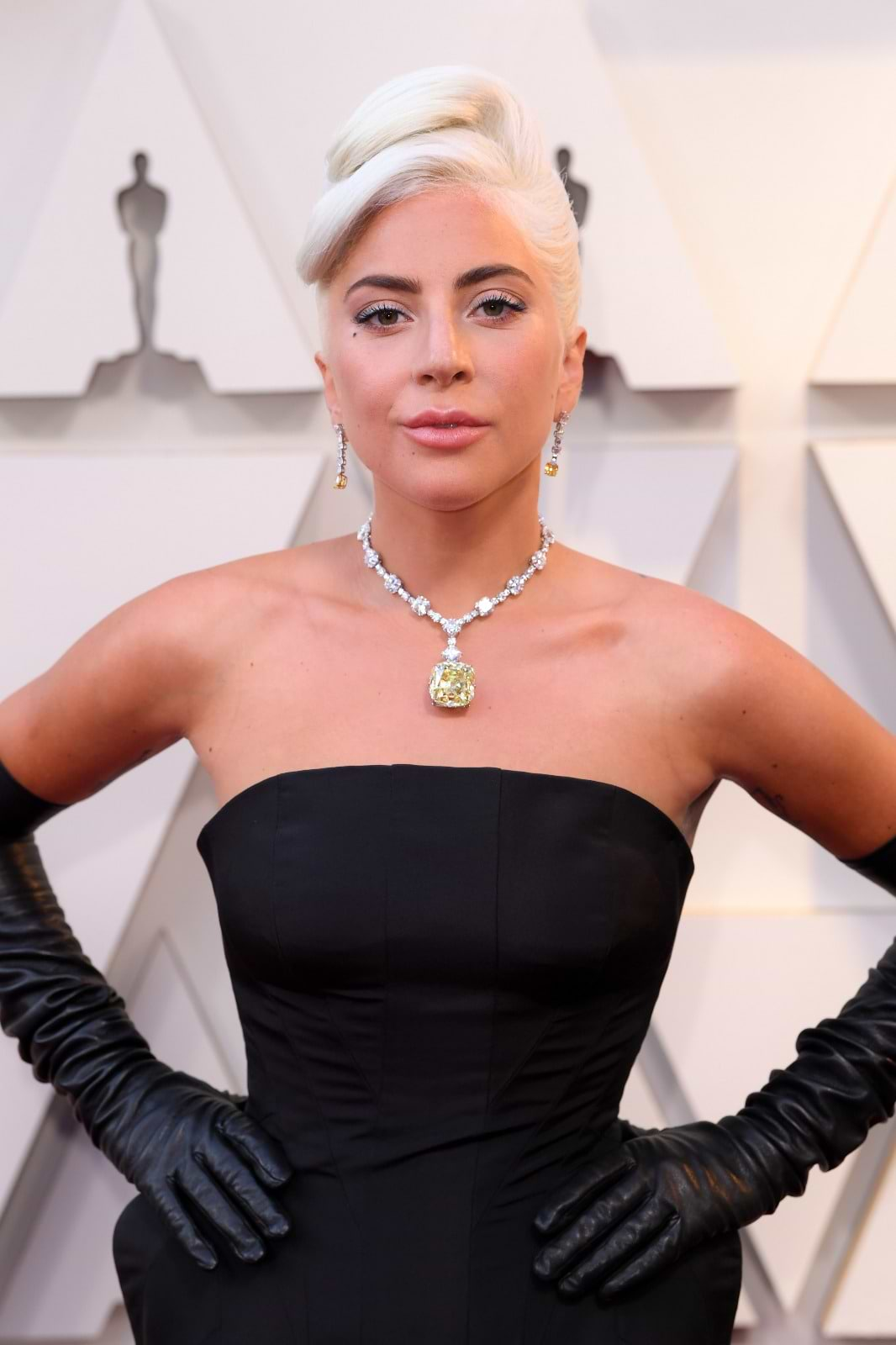 This incredible statement piece was not only about showcasing an impressive yellow diamond, but represented so much more. This piece symbolizes the strength of women, and celebrates Lady Gaga and her amazing achievements. It shows women and girls all around the world that they can be anything they want to be. With hard work, dedication and believing in yourself, you can achieve anything.
To understand the significance of this diamond, it is important to understand it's provenance. Up until Sunday night when Lady Gaga wore this rock, only two women before her were known to have adorned this piece. In 1957 Mrs. Sheldon Whitehouse wowed all those in attendance at the Tiffany Ball when she walked in wearing this stunner, and just a few years later the magnificent Audrey Hepburn wore the diamond in a brooch during a publicity photo shoot for the classic movie, Breakfast at Tiffany's in 1961. It has been more than 60 years since this piece was last seen and was kept aside, waiting for just the right person to adorn it once again.
Lady Gaga's mesmerizing performance, and the unforgettable appearance of a yellow diamond of such magnitude was simply breathtaking and has given yellow diamonds the respect and attention it deserves.
Extraordinary Yellow Diamond Halo Ring (11.04Ct TW)
Diamonds and jewelry have always been a big part of the award show season, and the Oscars in particular, but the impact that this piece has had, is beyond anything we've seen before.
Lady Gaga showed the world that fairy tales do exist, but not in the way one may imagine. True fairy tales and happy endings happen when you work hard and believe in yourself. This is how you can be the princess of your own fairy tale.
"It's not about winning... what it's about is not giving up. If you have a dream, fight for it, it's not about how any times you get rejected or are beaten up, it's about how many times you stand up and are brave and you keep on going." - Lady Gaga
Thank you Lady Gaga for empowering woman where ever they are, you are a true inspiration.