Here at LEIBISH, we strongly believe that the world is a more exciting and vibrant place when you are surrounded by color. When we think about how to make the world more beautiful, spreading the love of fabulous color diamonds is always on our mind. For decades now, celebrities and the world's elite have been the only ones with access to the world's most beautiful gems and gemstones, and people had no idea that it is not only the top 1% who get to have access to or enjoy them!

We ran this giveaway just for this purpose - to spread the love of glamorous, exciting fancy color diamonds and to show the entire world how breathtaking and special yellow diamonds truly are. Our company mission is to show everyone how unique and wonderful they are, just like how no two diamonds on Earth are alike. Everyone is a treasure and everyone deserves only the best quality, the best service, and the best diamonds. We have something for everyone, and it was our pleasure to give away this yellow diamond ring to Kerri Levine, in honor of Mother's Day and in honor of the beauty of yellow diamonds.
Leibish choosing Kerri's name in the drawing (with a surprise ending!)

Kerri has been a very excited winner (see her adorable enthusiasm on Pricescope here), in her own words stating:
"My ring arrived today, right on time and oh, my! It's just beautiful.
I am sooooo enjoying my beautiful new ring. If I had been able to choose a yellow diamond myself, I do believe this is the color I would have picked. I love the soft shade, which I think works well with my skintone. The setting shows it off perfectly, and I'm finding I'll be able to wear it as a right hand ring or as an
I've attached a few pictures. The first is [with the ring] sitting safely on a chair in the yard. I love how the yellow just pops in that shot. The rest are hand shots, with the last stacked with my bands. Thank you so much to you and Leibish."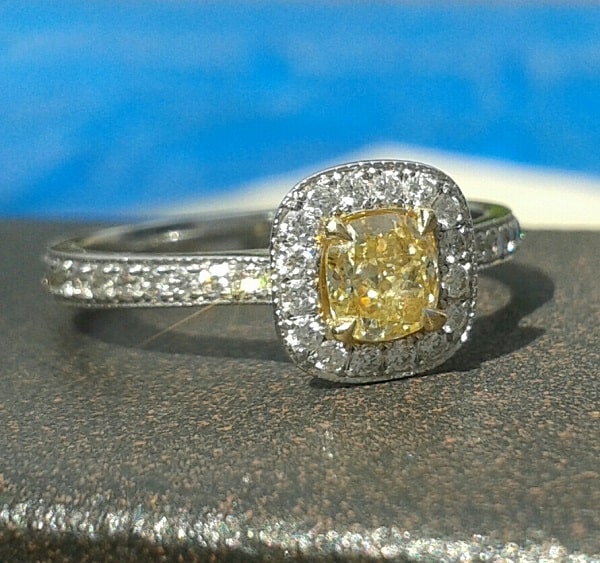 Kerri's yellow diamond halo ring
Kerri's yellow diamond ring absolutely glowing on her hand in the sunlight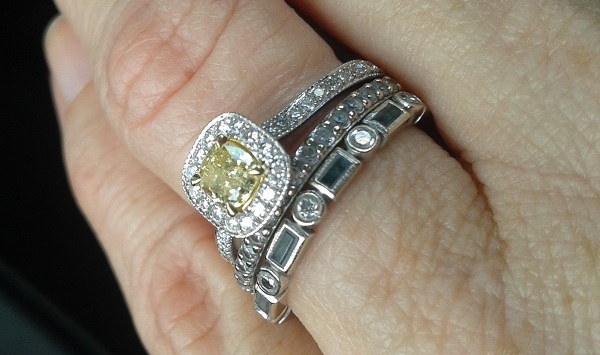 Kerri's classic ring stack shot
Want to be the next giveaway winner? Make sure to register to our mailing list, because when the next giveaway is launched, we'll be sure to let our followers know first!