You know you've made it big when there is a song written about you. Well, in that case, diamonds have made it really big because there are endless songs written about them. But, we already knew they were all the rage, just have a look at our brilliant collection of diamonds. Their place in music lyrics just confirms their status. From Rihanna's ever-popular "Diamonds" to the classic "Lucy in the Sky with Diamonds" by The Beatles, there are many tunes mentioning a girl's best friend.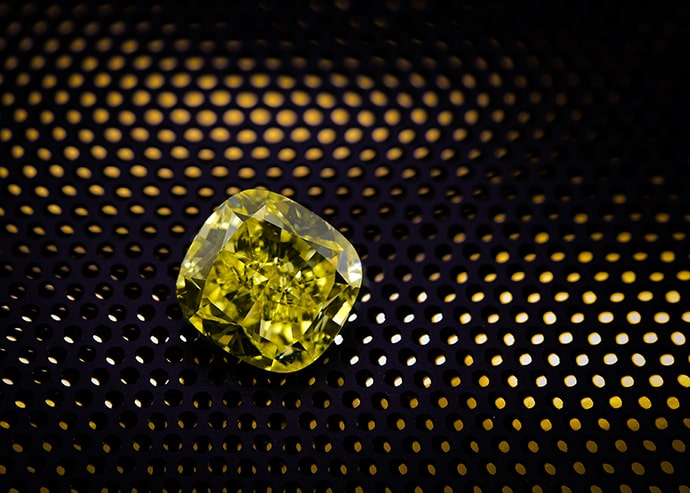 natural cushion shaped yellow diamond
1. Diamonds are a Girl's Best Friend – Carol Channing (1949)
This is one of the oldest songs about diamonds. Sung on Broadway by Carol Channing and made popular by Marilyn Monroe in the film version in 1952, "Diamonds are a Girl's Best Friend" remains one of the most iconic movie songs of all times, as well as one of the most memorable diamond expressions.
2. Big Blue Diamonds – Earl J. (Kit) Carson (1950)
Released over half a century ago, "Big Blue Diamonds" tells the heart-breaking story of a man who is turned down because he cannot afford the diamond of his girl's dreams. Many artists have attempted to redo this classic song but nothing compares to the original.
3. Lucy in The Sky with Diamonds – The Beatles (1967)
"Lucy in The Sky with Diamonds" is probably the first song about diamonds that comes to mind for most. However, for many, this song has other connotations as well. Although the allegations regarding the connection to a certain substance have consistently been denied over the years, many still associate this classic and catchy song with something a little less innocent than the song originally intended.
4. Diamonds are Forever – Shirley Bassey (1971)
Unless you are an avid James Bond fan, you will not know that the song "Diamonds are Forever" was the theme song for the original James Bond movie. The lyrics of the song, sung by Shirley Bassey, express, how unlike men, diamonds will never let her down.
5. Diamonds and Pearls – Prince (1991)
Prince's "Diamonds and Pearls" from 1991 is one of the greatest love songs of all times.
6. White Diamond - Kylie Minogue (2010)
Kylie Minogue's "White Diamond" is a somber song about the singer's battle with cancer. She compares herself to a white brilliant diamond, which is bright and strong just like she was throughout her battle.
7. Diamonds – Rihanna (2012)
If the younger generation today would be asked to name a song about diamonds, this would be it. It is also one of Rihanna's most popular songs ever. The song is about love and living in the moment, and is extremely catchy.
When you are the most durable substance known to man and shine more brilliantly than any other gemstone on the planet, there is bound to be a song about you. Songs about diamonds seem to be as desirable as the real deal.