Though many color diamonds contain purple hues, it is extremely rare to come upon a pure Purple diamond. Such stones are valuable and very much sought after. Similar to Pink diamonds in that they are also romantic, Purple diamonds have an additional element of mystery due to their darker and deeper color. They are feminine, royal, and incredibly precious. Where do Purple diamonds come from? What makes them purple? How expensive are they? All these questions and more will be answered in this article.
Sources of Purple Diamonds
Most Purple diamonds are found in Australian mines, including the famous Argyle mine. However, some purple diamonds have been found in the Amazon, Siberia, and recently there have been some very rare purple diamonds discovered in Quebec, Canada.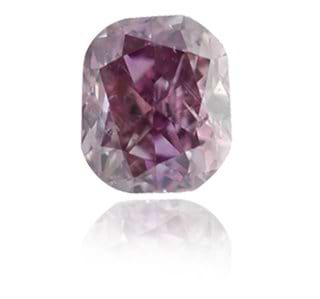 Fancy Deep Pinkish Purple Diamond
The Origin of the Purple Color
The purple color comes from the unusually high level of Hydrogen present in the diamonds. Pink, Pinkish, and Grayish Pinkish are some of the color modifiers that can be found in a purple diamond. Purple diamonds have only a few intensity levels, which include Light, Fancy Light, Fancy, Fancy Intense, Fancy Vivid, and Fancy Deep.
Since Natural Purple diamonds are so rare, some try to achieve the beautiful purple color through color enhancements. The purple color in enhanced diamonds though has higher saturation than Natural Purple diamonds. Such diamonds also contain an orange fluorescence.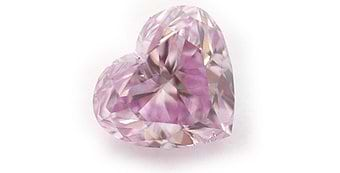 0.18 Carat, Fancy Pinkish Purple Diamond, Heart, SI2
The Cost of a Purple Diamond
Pure Purple diamonds are so rare that a stone of any size will be priced quite high to something of relative size in a colorless stone. Even purple diamonds with secondary hues that display a strong purple color will cost a pretty penny. Depending on its size, color, and intensity, a Purple diamond can cost anywhere from a few thousand dollars to hundreds of thousands of dollars to over a million dollars in the rare cases of an unusually large stone.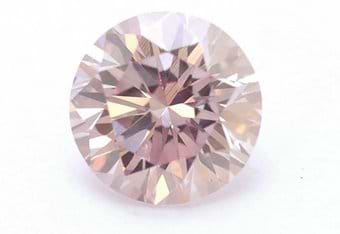 0.22 Carat, Fancy PURPLE Diamond
Famous Purple Diamonds
The most famous purple diamond is the Royal Purple Heart, which is a 7.34-carat Fancy Vivid Purple I-1 clarity diamond, the largest of its kind known to exist. Originating from Russia, the diamond is named for two of the diamond's most famous traits: its color and its shape. Both the Vivid Purple color and heart shape are unique for this type of stone. The heart shape brings out the brilliance of the natural purple color of the diamond.
Purple diamonds are some of Mother Nature's most glorious gifts. Diamond collectors and enthusiasts know the value and importance of high quality Purple diamonds. LEIBISH has a fine selection of Purple diamonds, which includes diamonds with pink or gray hues in a variety of color intensities and shapes.
Contributor: Benji Margolese