Red Diamonds and the Argyle Pink Diamond Tender 2017
Branding is the base of every enterprise, and Rio Tinto deserves a PhD for what they managed to do with their marketing efforts for the Argyle brand.
I can proudly say that we have been selling Argyle pink diamonds for about 20 years now. In fact, if I may say so, I believe we have sold more Red Argyle diamonds than any other company. Leibish & Co. was among the first Internet portals (maybe in the world) selling Argyle pink diamonds to the end users.
If you are already familiar with the Argyle diamond mine, then there is no doubt you are aware of the highlights of this upcoming Tender. The Argyle Pink Diamond Tender 2017, Custodians of Rare Beauty, is offering 58 stones including some of the largest red diamond that mine ever offered. The Argyle Everglow is a 2.11 carat, radiant cut, absolute piece of art.
Browse through our collection of natural red diamonds
Considering the fact that the largest red diamond ever sold was the Moussaieff Red, at only 5.11 carats, this 2.11 red diamond isn't that far off! We have never sold an Argyle red of that size. In fact, the largest natural red diamond currently offered on my website is a 1.32 fancy red.
1.32 ct Fancy Purplish Red
We have also sold a number of smaller stones, such as this 0.10 carat radiant shaped stone.
The 0.10 carat, Fancy Purplish Red Diamond, Radiant Shape, (VS1) Clarity, GIA
Argyle has produced diamonds of amazing colors. However, as the mine is set to close by 2020, they know full well there is only a few short years left to create magic. Upon finding the Argyle Everglow, Robyn Ellison, who is the communications manager for Rio Tinto, said that "it is unlikely that a diamond as rare as this will come out of the mine again."
0.20 ct Purplish Red, 0.22 ct Fancy Red, 0.52 ct Fancy Purplish red
The company has sold nearly 100 natural red diamonds over the past 10 years. In that time, my son Shmulik, the companies GIA GG gemologist, has participated in the Argyle Tender every year. It is a cruel exercise as Argyle invites over 100 of the world's top dealers to bid blindly upon an exclusive collection of 50-60 diamonds. Shmulik usually bids a lot for the stones he wants. Some years we win more while others we in less. Every year offers different results.
At the beginning, it was more fun. Shmulik once said, "when you pay a lot, you get a lot." Only now, it's a little more difficult. Regardless of how the diamond market is doing, ultimate luxury will always be sought after by a certain sect of people. Today, the prices paid have gone wild. Diamond buyers offer such high premiums in order to win the stones because they see the potential, with absolutely no relevance to the current market value.
The 17 Argyle Tender diamonds Leibish & Co. won in 2012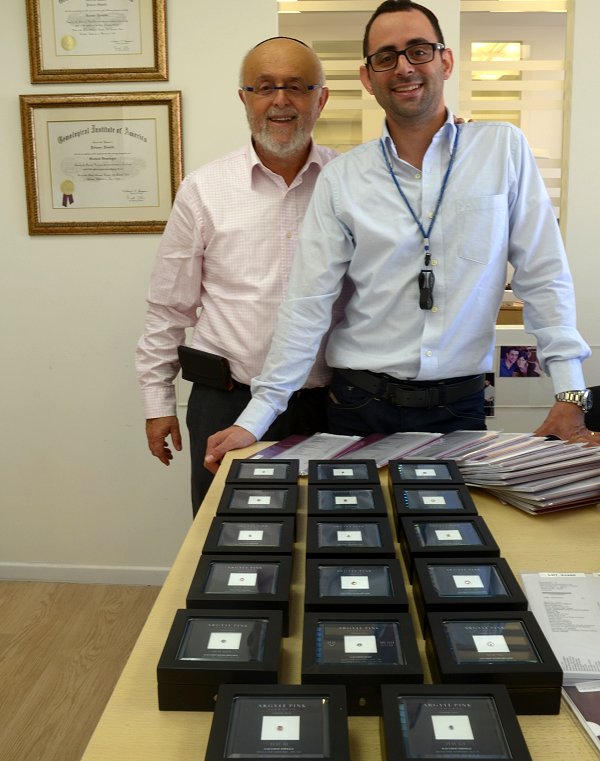 In 2012, Shmulik won 17 Argyle Tender Diamonds
I recall Shmulik's reaction when he was told he had one 17 stones in the Argyle Pink Diamond Tender 2012. Understanding that 17 tender stones was 25% of all stones offered at that year's Tender.
Whoever ends up winning the 'Argyle Everglow' will have managed to acquire a priceless item. The most famous red diamond ever sold at auction was the 0.95 carat Hancock Red. It is smaller, but the color of that stone was something extraordinaire. Benji Margolese, our PR manager, wrote at the time that 'the Hancock Red is one of the most famous red diamonds in the world and Red diamonds are among the rarest diamonds on the planet.
The $880,000 sale was back in 1987 at Christie's New York. The price paid of $926,000 per carat was seven times more than the price of the previous record-holding diamond. That auction made history, especially since Mr. Hancock had supposedly bought the diamond in 1956 for a mere $13,500!
There is no question that the prices paid for these stones today is far higher than they once were, but I believe especially with the dwindling resources for such stones, prices are set to rise even more. The annual Argyle Pink Diamond Tender is set to take place in September. Wish us luck when our turn to submit a bid for each stone comes!