Anyone who follows jewelry trends closely will notice that the metal type and color are some of the most significant factors that experience change. One of the main reasons is because it can alter the look of the entire piece.
Fancy Brown Cushion & Pave Diamond Ring (1.60Ct TW)
Traditionally, gold was considered the more desired metal for jewelry, while silver, the softer and weaker metal, was less valuable. Although gold is naturally found in a reddish yellow shade, it is often combined with other metals to create alloys that the general public simply refers to as varieties of gold. Most gold jewelry over the years displayed yellow gold.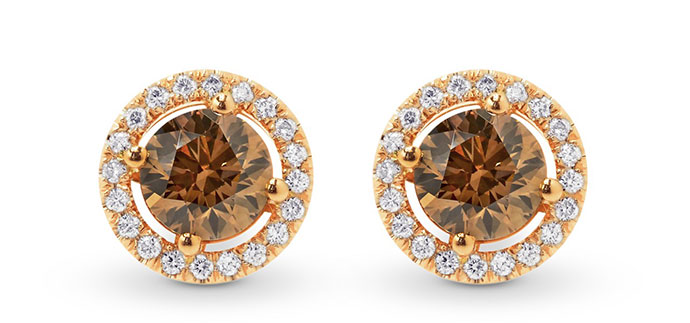 Fancy Brown Round Diamond Halo Earrings (1.48Ct TW)
At the beginning of the 20th century, white gold was introduced. White gold was originally the combination of natural gold, palladium, and nickel; was later composed of natural gold, copper, and nickel; and most recently, is made from natural gold, copper, zinc, and platinum.
Fancy Brownish Orange Pink Cushion Diamond Cross-Over Ring (0.90Ct TW)
Rose gold is made through a similar process. It is comprised from gold, silver, and copper. Recently, rose gold has been growing increasingly popular. One of the reasons more and more people are turning to rose gold is the fact that it is more subtle than yellow gold yet has more character than white gold.
Fancy Deep Brown Orange Radiant Diamond Solitaire Ring (1.40Ct)
Rose gold is also a great way to combine jewelry featuring different colored metals. Whereas white and yellow gold tend to clash, many feel that yellow gold and rose gold; or white gold and rose gold, mesh better. Another excellent combination together with rose gold is brown diamonds or pink diamonds. Although these pieces are rare, the finished products always look remarkable.
The History of Rose Gold
Rose gold was only introduced in the 19th century. Originally referred to as Russian Gold because of its origin, rose gold came to be when the czars' jeweler, Carl Faberge, mixed yellow gold and copper and used the pink blend to create jewels, including his famous Faberge Eggs. When the fad began to spread around the globe, the hue was renamed "Rose Gold." During the years of abundance, which characterized most of the 1920s, rose gold was seen in many jewelry collections. This fashion trend was followed by the sleek platinum look. However, when platinum became scarce due to World War II, jewelers went back to using yellow and rose gold for their creations.
Rose Gold is Not Just for Jewelry
When jewels begin appearing in a certain metal or a particular color, it can be assumed that it is fairly popular. The appearance of this said metal on other objects aside from jewelry takes it to a whole new level of trendy. This is where rose gold stands, as it is not only seen in designer jewelry collections, but also in the tech sector. There are rose gold-toned laptops, cell phones, smart watches, headphones and so on and so forth. It is a feminine color that appeals to women (as well as men) and is a softer alternative to the rather harsh and typical silver or gun metal-toned devices and gadgets.
How to Clean Rose Gold
Due to the high copper content in rose gold, jewelry depicting this variety of gold will darken over time. Caring for rose gold differs slightly from ordinary gold. If we're talking about antique rose gold, much care is needed in order not to harm the coating of the gold, which contributes greatly to its value. Modern rose gold also demands caution, but for the most part it can be cleaned like standard gold jewelry. After you have cleaned the rose gold you can buff it with a polishing cloth. When you see black spots appear on the cloth, you know you are doing it right as this is the undesirable tarnish that has accumulated on your gold.
Not every trend is, or should be, embraced. The rose gold trend is more than just a trend; it's a phenomenon. It is all over the place, and it is here to stay. Even if other trends overpower it at some point, rose gold has so much to offer that it won't just end up sitting in your jewelry box. In an age where so many styles work, rose gold has a safe place in the worlds of jewelry, fashion, and technology.
Browse through all jewelry designs, and get in touch with us if you find something you like but would love to make it in rose gold.