At 101.29 carats, the fancy vivid yellow Allnatt Diamond is one of the largest yellow diamonds in the world. In addition to being an extremely large size, the yellow stone, which has a very high color intensity level, also displays VS2 clarity and is a GIA certified diamond. Named after its last possessor, Major Alfred Ernest Allnatt, the cushion-cut diamond was sold in 1996 for over $3 million. The stone most likely originated from the Premier Mine in South Africa.
The History
Much is left unknown regarding this fascinating yellow diamond, including its exact place and time of origin, however, it is known that the gem was purchased in 1950 by Major Allnatt, for whom the stone was named. Allnatt was many things including a sportsman, donor, soldier, and art enthusiast. Cartier had the diamond set in a unique diamond-studded platinum floral piece, consisting of five petals, two leaves, and a stem. The yellow Allnatt Diamond makes up the center of the flower with the petals, leaves, and stem all comprised from sparkling colorless diamonds. After Christie's Geneva sold the exquisite jewel in 1996 for $3, 043,496, the piece has since been displayed twice at the Smithsonian Institute. The first time was in 2003 through the "Splendor of Diamonds" exhibit, and the second time in 2005 during the "Diamonds" exhibit. The talented and hilarious Jenna Elfman had the honor of wearing this regal piece at the Smithsonian exhibition.
About Yellow Diamonds
Yellow diamonds are incredibly beautiful due to their vibrant and joyous yellow hue. They are also one of the most abundant fancy diamond colors, making them more affordable for the most part. Nitrogen is the element responsible for the yellow coloring in yellow diamonds. Almost all diamonds contain nitrogen. Only about 1% - 2% of all diamonds are Type II diamonds, which do not contain any traces of nitrogen. These rare diamonds account for some unique color diamond such as blue diamonds, which are Type IIb types, and a very select few colorless diamonds, which are Type IIa diamonds. Yellow diamonds are therefore Type I diamonds, which make up the vast majority of the world's diamonds. Interestingly enough, yellow diamonds with a very low color grade are the same stones as colorless diamonds with a low color grade. How is this possible? Well, since nitrogen is found in almost all diamonds, it is also found in colorless stones. While it is ideal for colorless diamonds to be as void of color as possible, it is the exact opposite for color diamonds. The color grading scale for color diamonds begins with a faint yellow color intensity, similar to the amount of yellow coloring found in S-Z diamonds, the lowest color grade available for colorless diamonds.
Other Famous Fancy Vivid Yellow Diamonds
Since yellow is a rather common color for fancy color diamonds, there are many famous diamonds with this color. However, only a few possess the rare vivid yellow color intensity. Another such famous diamond is the Cora Sun-Drop Diamond, a 110.03-carat pear-shaped diamond from a South African mine. Another example is the Graff Vivid Yellow Diamond. It was a 190.72-carat rough diamond, which was cut down to a 100.09-carat cushion-cut stone.
LEIBISH Yellow Diamonds
If you are looking for an exceptional yellow diamond, LEIBISH is the place to go, as they have an extensive collection of yellow diamonds, yellow diamond jewelry, and many fabulous styles of yellow diamond engagement rings. From loose stones to beautifully designed jewelry pieces, there is much to be seen in the yellow diamond department. In order to get a tiny taste of what Leibish has to offer, take a look at this precious pair of fancy yellow radiant diamond halo earrings.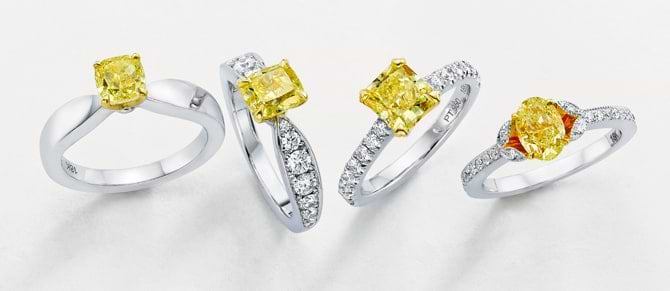 Yellow diamond engagement rings from the LEIBISH Soleil collection