The Queen's Greens
It's no secret that Her Majesty Queen Elizabeth II wore the most spectacular jewelry, sometimes several memorable pieces at once. Most of the historical pieces date back centuries and are amongst the British Crown Jewels spanning some 600 years of European history. They include jewel encrusted regalia used in official ceremonies like coronations. Visitors today can see them on display at the Tower of London in the Jewel House.
As extraordinary as they are, the Queen more often wears magnificent jewels from her private collection. Many are sentimental pieces with personal meaning to her. Her 3 carat diamond engagement ring given to her by Prince Philip was made from diamonds belonging to his mother Princess Alice of Greece. And a fabulous large diamond floral brooch with a 23 carat pink diamond center which was a wedding gift from the mine owner in Tanzania to Her Majesty.
She has amassed a large collection of other diamonds and colored gemstones over her 70 years reign. For those keeping track, it is said that her collection amounts to over 300 pieces of jewelry. This includes 98 brooches, 34 pairs of earrings, 46 necklaces, 15 rings, 37 bracelets, 5 pendants, and 14 watches.

It would be fair to say the Queen loved color, and many of her personal jewelry items are vividly hued color stones. Clearly she was a lover of green in both her wardrobe and with her jewelry.
Messages Told in Her Jewelry
She understood the power of color, as expressed in both her wardrobe and with her splendid jewels. Her majesty was a master at using color to express important personal messages.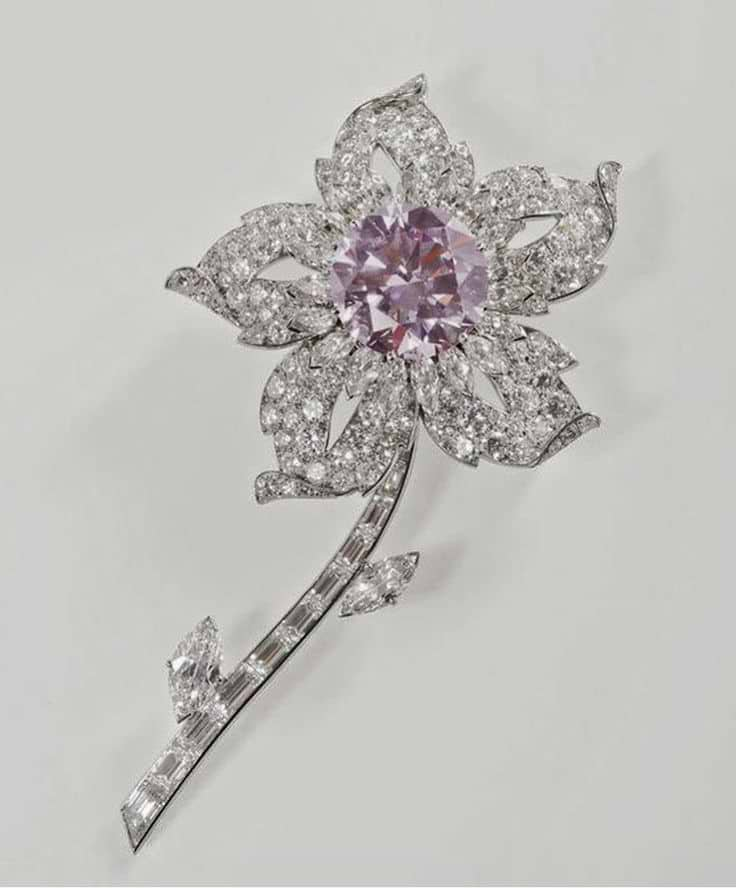 LEIBISH Fancy Intense Pink Diamond - Argyle
Although not a green stone, it bears mentioning again that the legendary Williamson diamond brooch worn by the Queen held tremendous sentimental value. Given to her in 1947 in Tanzania as a wedding gift, the large 54.4 ct pink diamond rough was later fashioned by Cartier into a stunning floral brooch centering on a 23.6ct pink round brilliant diamond. The Queen loved wearing it for special occasions.


The Colors of the Queen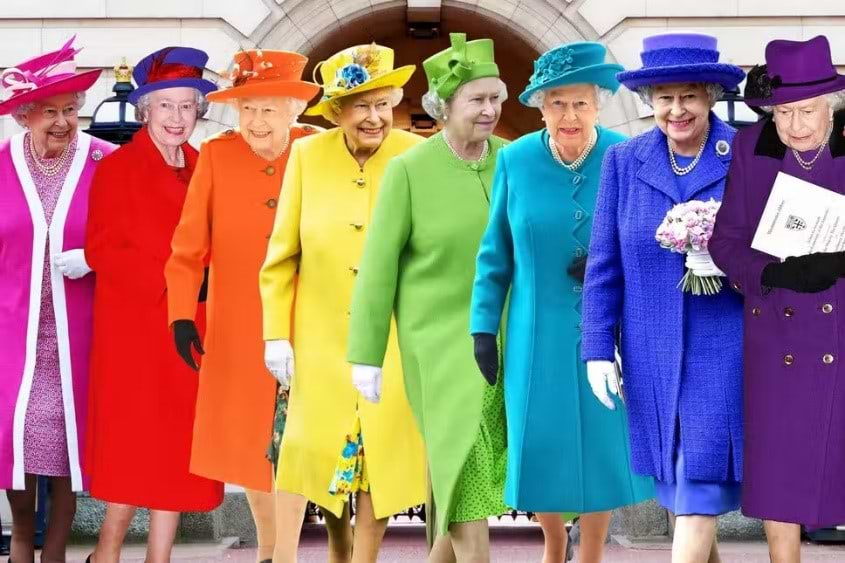 While she looked lovely in every shade of the rainbow, it's known that her personal favorite color was green. And in later years, in a nod of respect of to her husband Prince Phillip, she chose a deeper green color for her outfits.
Her Majesty's Homage to Prince Philip
The story behind this choice was a touching and sentimental one. The Queen's wearing of the shade called Edinburgh Green was in tribute to her late husband. Edinburgh Green was Philip's official livery color, and the duke was well known for his love of that color.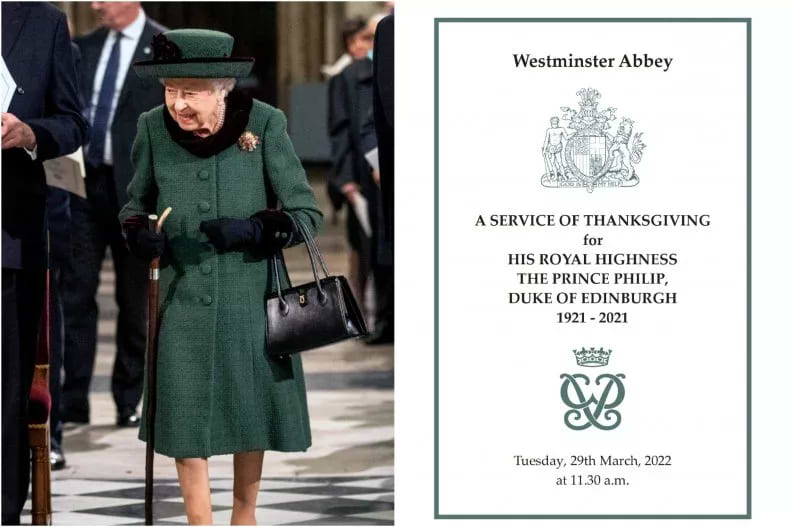 --
But Her Majesty looked striking in various greens in earlier years. And why not? The color green evokes feelings of new life, refreshment, spring, and liveliness!
Here's a look at some of the more outstanding green jewels from Her Majesty's personal collection. Some have been well photographed, while others were enjoyed privately by the Monarch away from the limelight.
Cambridge Emerald Brooch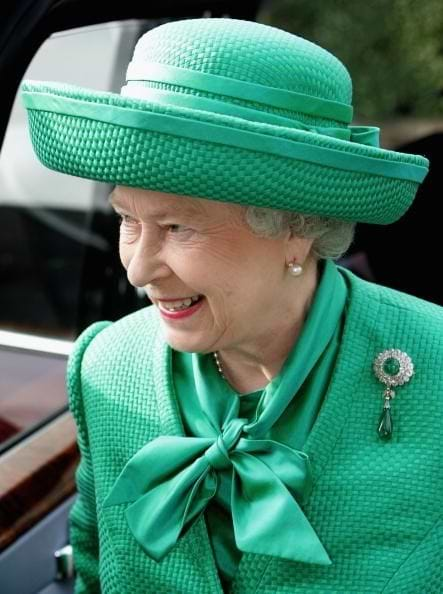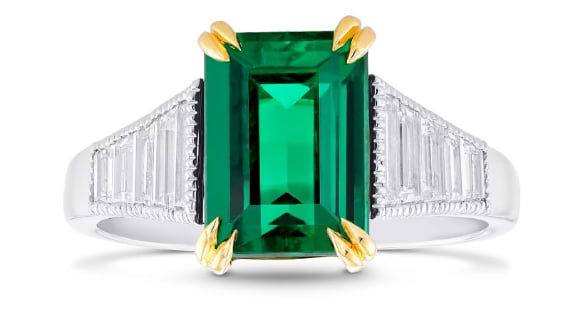 LEIBISH Colombian Emerald and Diamond Sidestone Ring
Her Majesty's personal brooch has a lot going for it. What initially catches your eye is its central cabochon emerald with two diamond halos, the outer larger than its inner. The large detachable drop emerald pendant features a chain of diamonds with leaf detailing. Its charming history began when Prince Adolphus, Duke of Cambridge, and his wife Augusta, Duchess of Cambridge (Queen Mary's grandparents) while in Frankfurt in 1818, entered a charitable lottery. They won a box of cabochon emeralds as their prize, which were later made into a pair of earrings and a necklace.
Mary's mother, the Duchess of Teck inherited them, and they went through the family line (including a temporary side-trip to a Royal Mistress) and were eventually passed on to Queen Elizabeth.
Greville Emerald Kokoshnik Tiara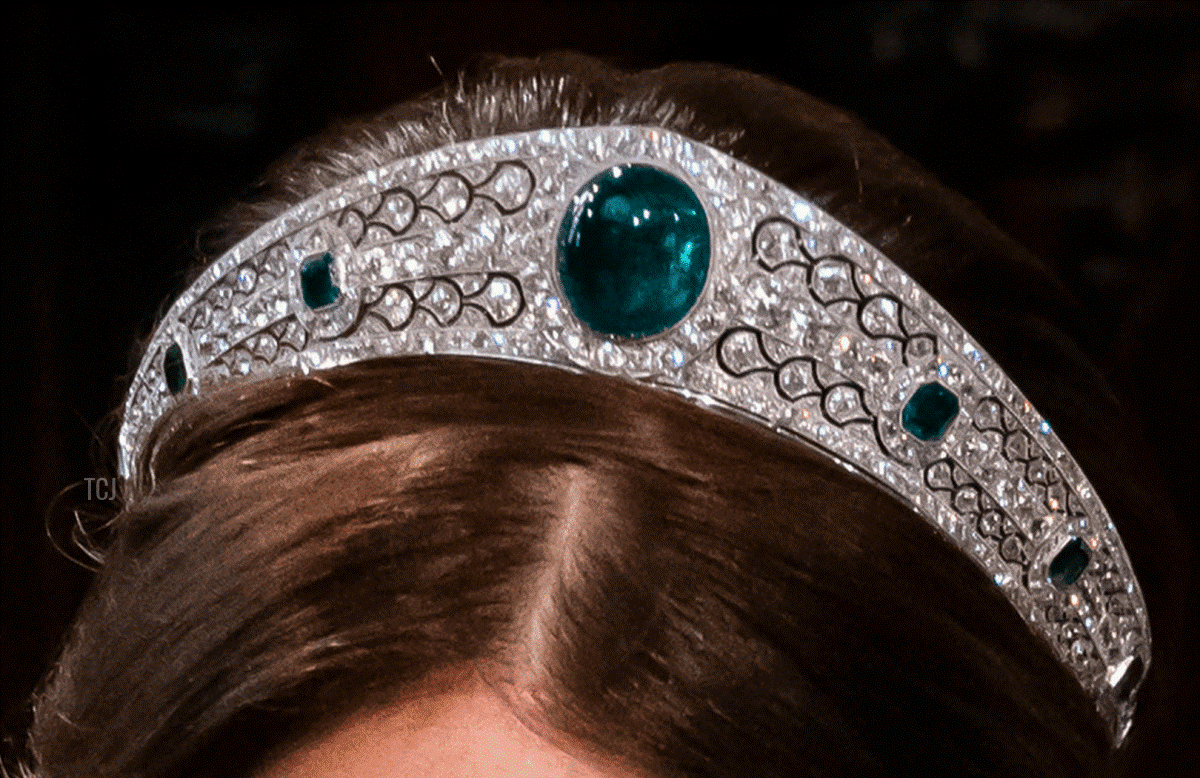 This exquisite emerald and diamond tiara was commissioned by Boucheron in 1919 for Dame Margaret Greville, who then famously bequeathed it along with all her jewelry to Queen Elizabeth, the Queen Mother in the 1940s. Royal watchers might recall it being worn by Princess Eugenie at her wedding in more recent years. Prior to that, the tiara had only been spotted in a few grainy photographs from the 1940s and in archival material from Boucheron. Because of its reclusiveness, speculation arose wondering if this unique tiara was still in the British vaults. It has never been worn publicly by a member of the royal family —although the Queen would have many private occasions in which to enjoy this headpiece.
A palace press release delivered at the time of Eugenie's wedding described the tiara as created from "brilliant and rose cut diamonds pavé set in platinum, with six emeralds on either side [of the large central emerald]." It also pointed out that the tiara's design was inspired by the kokoshniks (traditional Russian girl's headdress) popularized at the Imperial court of the Romanovs in Russia.
Garrard's Delhi Durbar Necklace, c.1911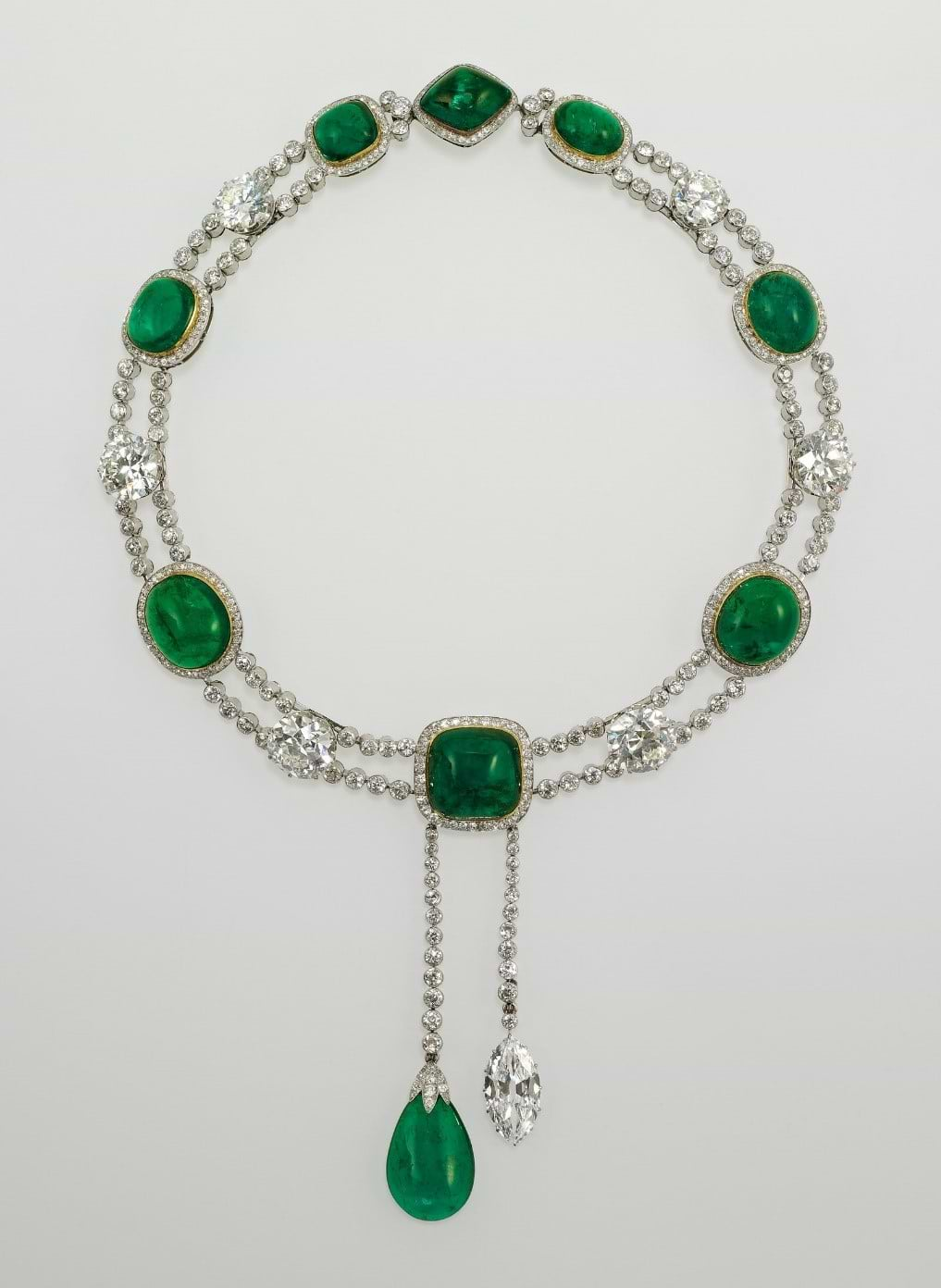 Credit: Vogue July 20.2022
LEIBISH Emerald Heart Shape and Diamond Halo Necklace
Queen Elizabeth's elegant grandmother Queen Mary had a habit of re-styling her own jewelry. So she would sometimes wear this striking emerald and diamond Delhi Durbar necklace without its iconic asymmetrical pendant chains. On at least one occasion she was said to have replaced the Cullinan VII with a lesser diamond. After her death in 1953, Queen Elizabeth II inherited the lovely neckpiece and wore it on formal evenings paired with the Vladimir Tiara.
The Godman Emerald and Diamond Necklace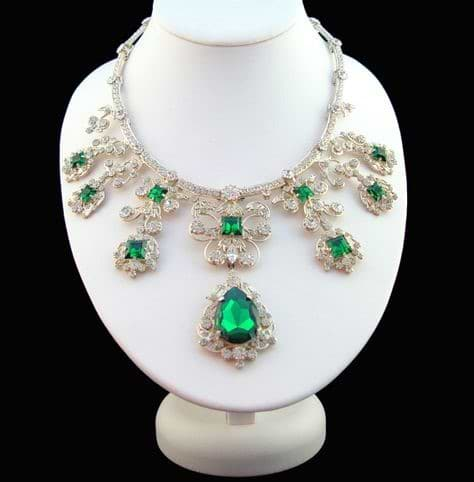 Now here's a story you may not have heard before. The Queen's royal subjects really do love their Queen! Case in point is this ornate 19th century platinum, emerald and diamond necklace with symmetrical flower motifs. An early owner of this extravagant piece of jewelry was Frederick Du Cane (or Cann) Godman who gifted the necklace to his two daughters in 1965. They believed the emerald piece once belonged to Empress Josephine of France, the Empress Consort and first wife of Napoleon Bonaparte.
After much research from royal historians, it was determined that the piece may not have had that exotic provenance. Still, the spinster sisters agreed that if it would please Her Majesty, they would be most willing to gift it to her. The Queen was pleased and gave a private audience with the ladies to thank them for their generosity.
Queen Elizabeth II's Vladimir Tiara with Emeralds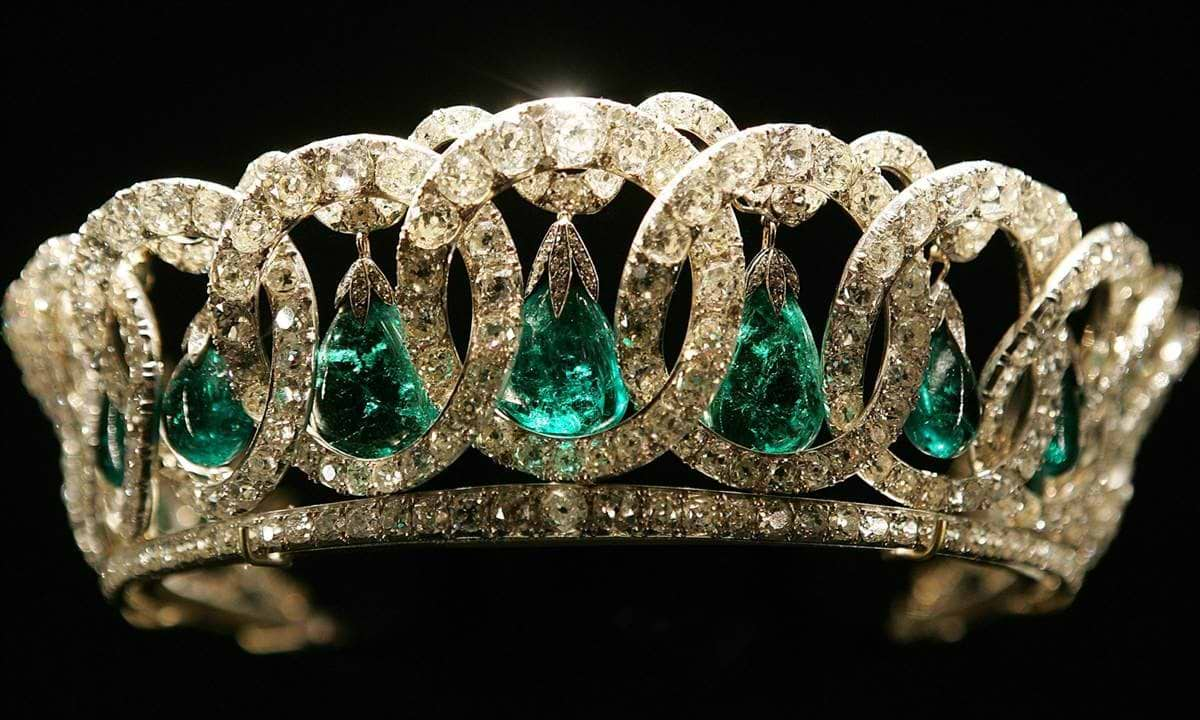 Credit; Town & Country
Mentioned earlier was a favorite tiara of Queen Elizabeth, named the Vladimir Tiara. The diamond, emerald and pearl tiara was commissioned by the Duchess Vladimir from the Romanov court jeweler, Bolin. Born Marie of Mecklenburg-Schwerin, she joined the Romanov dynasty in 1874 upon her marriage to Russia's Grand Duke Vladimir Alexandrovich, uncle to the ill-fated last Romanov Emperor, Nicholas II.
The Romanovs and the British Royals were family of course, through the matriarch Queen Victoria. This lovely tiara is convertible and made to be worn with its briolette emerald pendants, or swapped out for pearls, or even worn simply with no jewels inside its intertwined rings.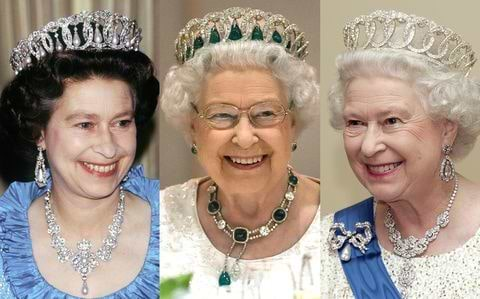 The Vladimir Tiara worn three ways by Her Majesty Queen Elizabeth II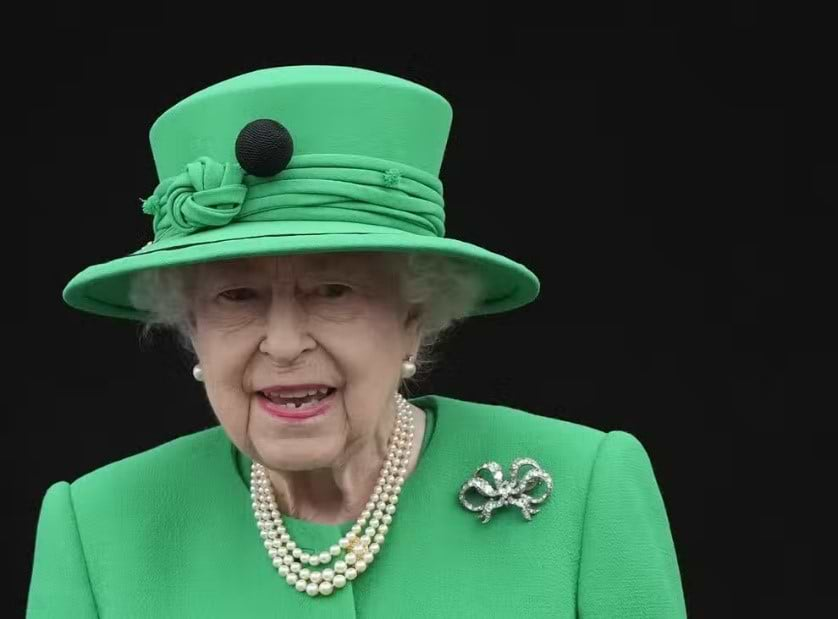 Here she is wearing kelly-green early in 2022, still showing her timeless style.
A Remarkable Reign
While Queen Elizabeth's jewelry was world-renowned, she will be most remembered for her gracious 70 year reign, keeping true to her vow to serve her great country – "whether my life be short or long."
Her extraordinary reign was not originally supposed to happen. As the daughter of Prince Albert, Duke of York, she only ascended the throne when a twist of fate interrupted her idyllic youth away from public scrutiny. The Duke's brother, King Edward VIII unexpectedly abdicated the throne in favor of his love for the twice divorced American Wallis Simpson. The rest as they say is history.
While our brief trip through some of Her Majesty's personal green jewels is not all-inclusive, we hope it has refreshed your interest in all things green, especially for emeralds and other green stones.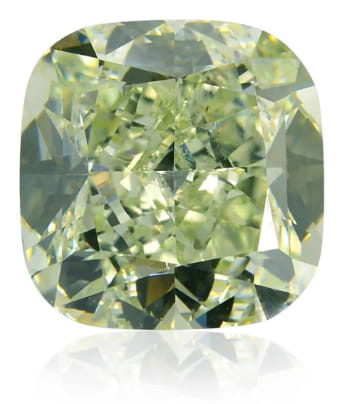 LEIBISH Fancy Intense Green Diamond
LEIBISH & the Monarchy
And here's our own green story with a connection to the British Monarchy!
Around 2010, we sold a 3.01 ct Chameleon green diamond to Buckingham Palace.
A green diamond exhibiting the chameleon effect displays a color-change capability. Whether from prolonged dark storage, or being placed near a jeweler's torch, a chameleon diamond changes from its stable color to a completely different tint—greyish-green, yellow, orange or some other distinct hue. After a short period of time, it will revert to its stable color. This phenomenon is infinitely repeatable.
From the conversation between LEIBISH and the purchaser with regards to shipping, taxes, and no discount request, the buyer's representative hinted that the stone was destined for her Majesty The Queen.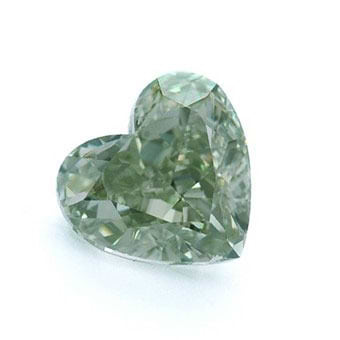 Royal or not, we can enjoy green diamonds ourselves. While they are extraordinarily rare, they do exist, and LEIBISH has curated some of the finest found anywhere in the world. You don't have to be the Queen, but we guarantee you'll feel like royalty wearing these stunning works of nature.