The term "engagement" brings up images of shimmering diamond rings to many people across the globe. However, the tradition of proposing with a diamond ring is relatively new. While diamond rings are the acceptable form of engagement rings in many cultures all around the world, there are many different traditions and practices in relation to engagement rings.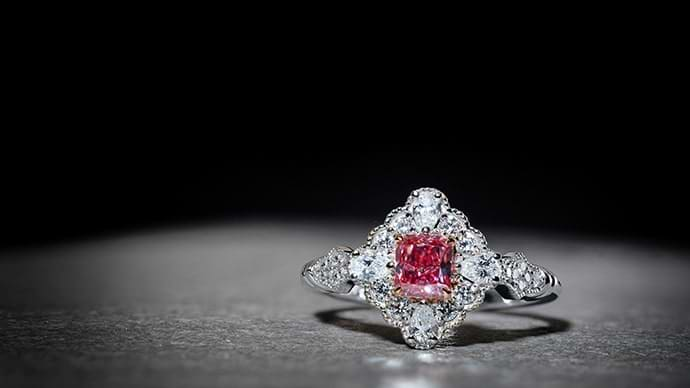 Argyle Vivid Pink and Diamond Antique Style Extraordinary Ring (0.84Ct TW)
Africa
Native cultures tend to have different traditions for many things, and engagement rings are no different. As Africa is abundant in native lifestyle, it is no surprise that Kenya's take on engagement ring is quite different. Ornate beading has always been part of the Kenyan culture, and so, jewelry featuring this form of artwork is offered in place of metal and gemstone jewelry.
Asia
Indian women (specifically from West Bengal) are given iron bangles instead of diamond engagement rings. Women in Hindu cultures receive toe rings called bichiya. As Hinduism is increasingly being influenced by Western culture, more and more engaged Hindu women will also be seen with finger rings. Engagement rings were never really part of Chinese culture. Today many Chinese women wear engagement rings, but plenty still receive the traditional gift of money and other goods instead.
Europe
In Eastern Europe, including Poland, Russia, and parts of Austria and Germany, brides and grooms wear their engagement and wedding rings on their right hand instead of their left hand. This tradition is seen in other cultures as well. In Nordic countries like Sweden, an engagement ring is given to both the bride and the groom. Unlike their American counterparts, the rings are generally simple and consist of either plain gold or silver bands. In France, colored gemstones are preferred to diamonds. Parisian ladies go for sophisticated stones like rubies, emeralds, and sapphires. Ireland has an especially interesting tradition for engagement rings. Some Irish women choose Claddagh-style rings, which are basically rings featuring a heart held by two hands with a crown on top. Since other people besides engaged women wear this ring style, it is worn with the crown pointing down until the wedding to show that they are engaged. Then it is worn with the crown facing up.
North America
Unusual engagement ring traditions in North America can be found in none other than Native American culture. Native tribes in North America prefer silver rings adorned with semi-precious stones to the more lavish materials of their Western counterparts.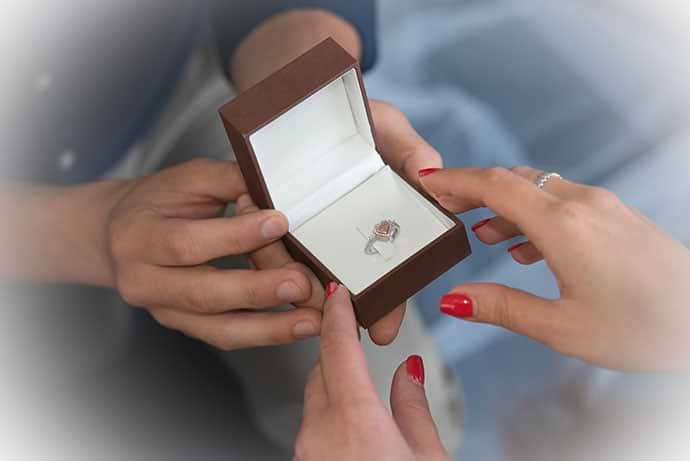 Proposing with a heart-shaped Argyle pink diamond ring
South America
In Argentina, couples only receive engagement rings. This means that they use their engagement rings during the wedding ceremony as well. Chile has a combination of several traditions. Like Nordic countries, both the man and the woman receive engagement rings, and like Eastern European countries, they wear them on their right hand. However, in contrast, this is only until they are married. That is when they switch to the left hand.
Despite the enormous influence that Western culture has on the rest of the world, various cultures have managed to maintain their individual engagement traditions. Even though we see the exchange of other goods besides jewelry to signify an engagement among some cultures, like China for example, jewelry is still widely used as an engagement marker. Aside for the obvious reason that jewelry is worn and can easily serve as a symbol of betrothal, engagement jewelry also has a very rich history. Dating back centuries, rings were originally worn as a sign of ownership and later evolved into an expression of one's love and the desire to be married.
Browse through our collection of diamond engagement rings.