There was a time, not too long ago, when most things served one main purpose. Much of that has changed over the past two decades, mostly due to the smart technology that is out there, which is constantly being improved.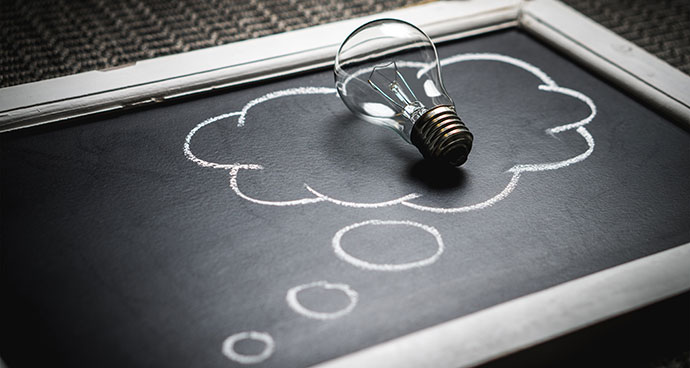 Smart Technology - Image courtesy of Pexels
Take cell phones for example. They were always a luxury, and not something to be taken for granted. The idea of having a phone with you wherever you go would have boggled people's minds several decades ago. Then came the smart phone and changed everything. It became our music device, our camera, our computer, and of course, our main phone. With so many changes happening all around us and affecting our day-to-day lives, mostly for the better, it shouldn't surprise us to see similar technologies in less obvious industries. Nevertheless when worlds such as the jewelry realm and the technology sector collide we are as shocked as we are amazed.
Most of us have already internalized the concept of smart watches and what it means for the watch industry. Many have even embraced it by choosing fancier models or pricier watchbands. However, how many of us have looked beyond the smart watch in terms of smart jewelry? Sure, jewelry does enough just by looking beautiful. But what if, at least some of it could do more? From heart rate-monitoring bracelets to tracker necklaces, there is an array of beautiful wearable technology just waiting to get acquainted with you.
LEIBISH yellow diamond jewelry
Rings
Let's begin with the least obvious. Although almost all smart jewelry is either some sort of tracker or notification device, they act as such through the most predictable forms: bracelets that serve a similar purpose as smart watches, or a necklace. Rings don't' seem like a realistic choice for smart jewelry because of their small size and their less-than-functional place on your fingers. Yet, smart jewelry entrepreneurs did not nix the idea of adding finger jewelry to the smart party, and have been able to give them efficient roles.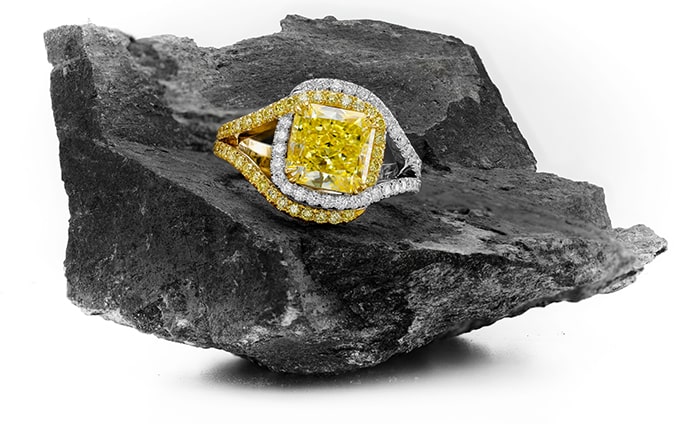 Fancy Yellow, Radiant Pave Cross-Over Diamond Dress Ring (3.92Ct TW)
Omate Ungaro Ring - Consider the Omate Ungaro, ring, an attractive piece of jewelry that utilizes semi-precious materials including gold or silver plating and your choice of gemstone. This ring is more on the jewelry side than the smart side, as it certainly looks like jewelry and only has one smart feature, which is notifying messages (only from certain contacts.)


NFC Ring - In stark contrast comes the NFC ring, which is not quite as pretty to look at but is definitely trendy enough. No one would ever guess it is a piece of smart jewelry. This tiny gadget boasts two NFC tags that allow information to be stored and to be passed on to other NFC enabled devices. It is a quick and easy way to make payments, lock and unlock doors, lock and unlock devices, etc. The best thing about this accessory is that it ranges between $20 and $40. It also comes in many great colors including white, black, and gold.


Oura Ring - On the pricier side there is the Oura ring, which is geared to track and analyze your sleep patters. You would have to pay a hefty $445 to get this smart gadget, which comes in three colors.


Motiv Ring - Motiv is a unisex ring made from titanium and rose gold that monitors your heart rate, counts steps and calories, and analyzes your sleep. The battery lasts five days and the ring is waterproof up to 50m. This ring goes for $199.99 and is only compatible with iOS.


Ringly Aries Ring - Lastly, there is the very beautiful Ringly Aries, which unfortunately is currently out of stock. It is still worth mentioning because it is an example of how stunning a piece of smart jewelry can be while also being incredibly useful. The 18k gold plated ring comes with an emerald, a pink sapphire, an onyx, a moonstone, or a tourmilated quartz stone and is available in five different sizes that connect with iOS and Android. The ring is programmed to vibrate in five different patterns in order to alerts texts, calls, Uber arrivals, and Facebook and Twitter notifications.
Bracelets
If you want to get a little more traditional, in terms of smart jewelry of course, there is a wide range of smart bracelets. Most of these bracelets function similarly to the different types of smart watches and are basically glorified Fitbits.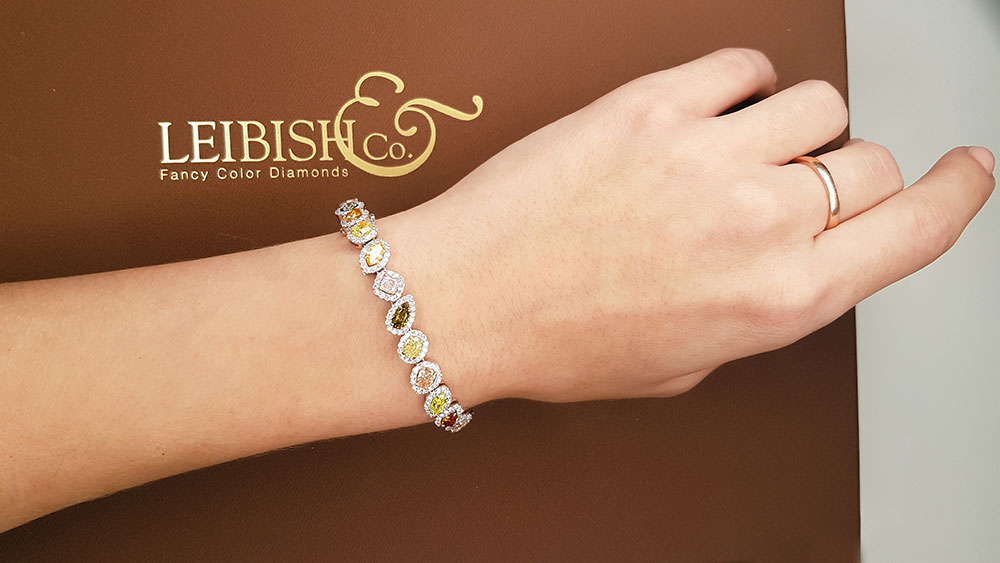 Multicolored Mixed Shape Diamond Halo Bracelet (10.36Ct TW)
Michael Kors Access Thompson – This stainless steel bracelet is available in a rose gold tone or a silver tone and costs $115. There are pave accents around the bracelet as well as around the pearl fitness-tracking module.


Michael Kors Access Reade – Another smart bracelet by this designer, the Access Reade features a crocodile skin-style band in either black or white with gold or white accents.


Kate Spade Bangle Tracker – A mere $128 will get you a trendy Kate Spade bangle that is also a tracker. It comes in three styles and is inscribed with "Seize the Day."


Bellabeat LEAF Urban – This smart bracelet is not just a bracelet. It can also be worn as a pendant or a necklace. It looks like an attractive piece of jewelry and can monitor your activity, sleep, and mindfulness meditation sessions. It is environmentally friendly and water-resistant. Starts at $120.


Tory Birch x Fitbit Flex 2 – For $185 you can get a designer cover for your Fitbit Flex or Flex 2.


Ringly Aries Bracelet – The Ringly Aries bracelet will set you back at least $235 but it's a "real" piece of jewelry. Similar to the Ringly Aries Ring, the bracelet features a gold-plated band with a large gemstone. You can customize alerts and colors for more than one hundred apps.


Caeden Sona Connected Bracelet – Very similar to your traditional tracker, this bracelet offers all the benefits of a Fitbit with a much more stylish look. It costs $180 and comes in white and rose gold, black and gold, or black and gunmetal.


Misfit Ray – Waterproof up to 50m, the Misfit Ray bracelet can also be worn as a necklace. The slim metal cylinder has an LED light for notifications, which can be attached to a silicon band, a leather band, or a lariat necklace. You can track steps and sleep and even have it wake you up! The device does not need to be charged but the batteries need to be changed every four months.
Earrings
Joule Earring Backing – This is not quite a piece of smart jewelry, but rather, a smart backing for regular earrings. Designed to fit onto any pair of earrings, these backings are not yet available for purchase. They will be able to continuously track your heart rate, steps, and activity. The main advantage here is that it is a tracker that virtually goes unseen.
Round Brilliant Yellow Diamond Halo Earrings (0.70Ct TW)
Pendants
Senstone – The Senstone sets itself apart from other smart jewelry by doing something a bit different. It records voice memos, transcribes them, and organizes the text in an app. Aside from the LED light that lights up when it is recording, no one can tell that this is actually a piece of smart jewelry. It can be worn as a necklace or a bracelet and has a price tag of $140.
Pigeon Blood Red Ruby Drop Pendant (0.65Ct TW)
Necklaces
Misfit Shine with Bloom Necklace – The Misfit Shine transforms into a necklace when paired with the Bloom Necklace. This tracking device is fully waterproof and is made from aluminum. You don't need to charge it; just change the battery every six months. The necklace has an attractive intricate lace-style design.
Extraordinary Round Diamond Necklace & Detachable Sapphire Halo Pendant (29.23Ct TW)
After reading this you will likely want to make room in your jewelry box for all of these gorgeous and useful pieces of jewelry. Don't get too excited though because most of these items are somewhat redundant. So choose your favorite one and wear it well. Save the rest of the space in your box for all of the precious jewelry out there featuring some of nature's finest specimen from traditional diamonds to color diamonds to rubies, emeralds, sapphires galore.