I am a bit dyslectic, with a bad case of ADD (Attention deficit hyperactivity disorder) as a bonus. At our regular board meetings, I need someone to point out which excel file we are reading. So many figures, I often find it difficult to follow what we are talking about.
That must have been one of the reasons I got involved with fancy color diamonds.
I was fascinated by the visual appeal of color diamonds. I simply couldn't read through the Rapaport list or understand how so many manage to earn a living using the same discounts? In the past, I was a TV director, and as a result images and colors always appealed to me. Also, I had a great mental record of all the color stones I had seen. But, when it came to white diamonds, they all looked the same to me.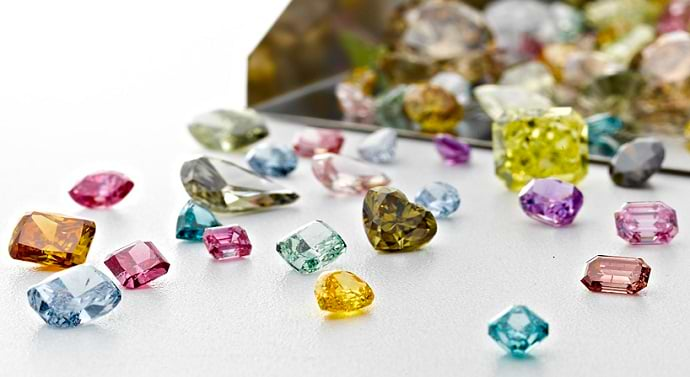 A vast collection of natural fancy color diamonds
Thinking out of the box and navigating against the mainstream were the first elements the fancy color diamond business. In fact, it's difficult to say what was first: the chicken or the egg? Was it consumer demand, or the ample supply of color diamond rough that was the motivating factor to manufacture fancy color diamonds? Consumers always desire to wear unusual jewelry pieces because they like to be different. Manufacturers wanted to get rid of the odd colors they got in DTC boxes, and I saw it as an opportunity.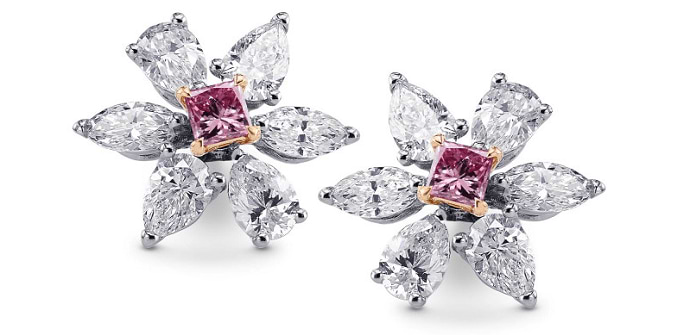 Fancy Intense Purplish Pink Princess & Fancy Colorless Diamond Earrings (2.37Ct TW)
For some unknown reason, my involvement in fancy colors and my first steps towards selling diamonds online happened around the same time Google was founded in a Paolo Alto garage.
Google was so insignificant that no bank would even accept the 100,000 dollar check they received as seed money from their first investor. Today, they sit on 60 billion, cash in the bank.
At that time Lawrence Graff had single shop in Brompton Road, London. Jeremy Morris was an apprentice in his father's workshop. And I, I was a diamond salesman running between London, Paris, and Geneva. I didn't have any long term marketing visions. Rather, I was just trying to live from day to day.
It appeared to me that fancy color diamonds could be sold anywhere, as long as the images of the stones were authentic. People needed to see pictures that showed the real colors since no two color diamonds are exactly alike. More importantly, it had to be available worldwide to all potential customers. I wasn't interested in running around anymore with a bag full of all my goods.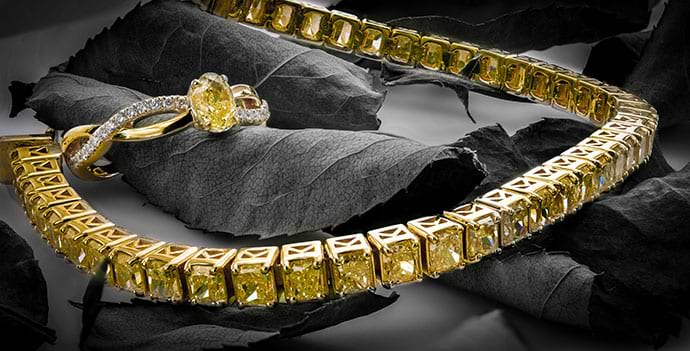 Leibish Yellow Diamond Jewelry
Soon enough, I realized that the backbone of the diamond business was in Bombay. That was where they manufactured color diamond melee, on an industrial scale.
My first website was not the most artistic invention, to say the least. The simple tasks of photographing one stone and then uploading it to my website took most of the day. But in 1995, I was already online, and as hard as it was to believe back then, selling loose fancy color diamonds over the Web.

Previous versions of the website
Contrary to regular white diamonds, fancy colors were greatly influenced by a few great personalities. They created the buzz which sparked public interest. At the top of this list, I would place his Royal Majesty, The Sultan of Brunei. Lawrence Graff was the favorite of the Sultan's wife. Graff created items for her that were out of this world. She loved big sizes in the best, most vivid colors.
But this business for him was just as important for smaller companies like us. She bought dozens of pink diamond jewelry and canary diamond watches from Graff and Chopard, and just gave them away as gifts to her visitors, friends or family. Others, heard or may have been lucky enough to see some of these pieces and wanted ones of their own.
It was the sweetest business on earth. The Sultan bought around $3 billion worth of jewelry, and then just disappeared from the market. Just as soon as it began, it stopped. Needless to say I was worried, but Raymond Graff managed to calm me down. He said not to worry, "tomorrow is another day," we will find new clients, and develop new markets."
He was right. Lawrence Graff didn't blink an eye. He simply began looking for new clients. He became extremely active at the main auctions, strengthening his brand, and important fancy color diamonds. Both received a significant uplift after each big purchase was made. Whatever he did made front line news.
Let's just look at two of the important diamonds he purchased over the years. The Wittelsbach Diamond, later named the Wittelsbach-Graff, was purchased as a 35.56 carat Fancy Deep Grayish-Blue diamond with a VS2 clarity. He managed to re-polish that beauty into a 31.06 carat Fancy Deep-Blue diamond with an IF (internally flawless) clarity. The Graff Pink was a 26.78 carat Fancy Intense Pink diamond. Although it was already recognized as one of the greatest diamonds ever discovered, Graff took that stone as well back to the wheel and managed to pull out a 23.88 carat Fancy Vivid Pink, IF (internally flawless) diamond. His team re-polished both of these stones, earning him tens of millions of dollars.
The latest very successful marketing stunt he made was quite recently in Basel. Graff's brand needed a new extension on par with Graff Diamonds. His goal was to have outside retailers market Graff diamond watches. He rented a huge booth in Baselword, right in the center of the luxury watch hall. Graff presented a $55 million fancy color diamond watch. The publicity and press attention was so powerful, that Patek Philippe and Chopard looked like Swatch next to him.
Fancy color diamonds are sold on feelings of glamour. Luckily, they aren't based on any price list. The way the Internet works today, with the unbelievable reach of all the different social media platforms, you need a strong brand to demonstrate the value and help sell fancy color diamond jewelry.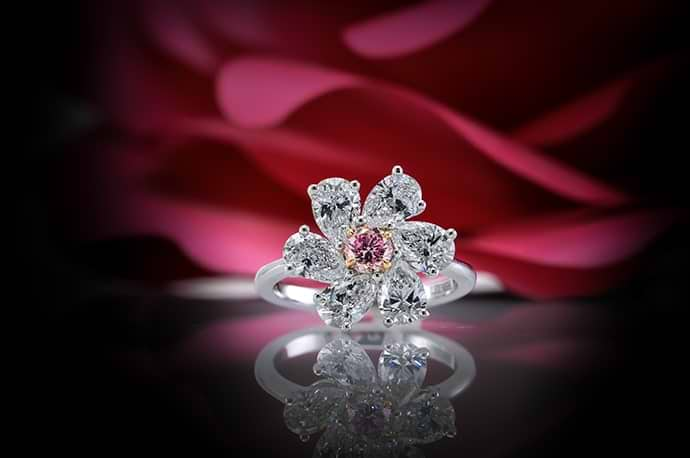 An Argyle pink diamond ring
It is a difficult task to brand regular white diamonds, as they are basically all the same commodity, sold nameless on a computer list. A horror movie for me. I don't feel that De Beers Forevermark managed to succeed as they had imagined adding value to a D-IF stone. No one really cares if the stone comes from DeBeers or not since every diamond out there is forever.
Regretfully, our survival depends on our ability to create an added value and offer our services closer to the final customer. Furthermore, the majority of the public today are interested in buying finished jewelry. Loose diamond sales are decreasing, and I am not even talking about the competition from India. My company is selling more finished jewelry than loose diamonds, and the majority of orders are from retail stores and privates.
We have to reinvent ourselves, introduce new products, and offer goods that might be somewhat foreign to what we have all been working with for some time. For example, we are incorporating precious stones into our ready-made jewelry items trying to adapt to what the market is looking for. We all have to prove to the world that Israel is not only an authority in high-tech but the diamond and jewelry industry as well.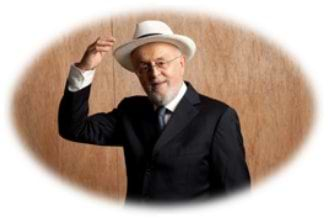 Best regards,
Leibish Polnauer, President and Founder of LEIBISH Fancy Color Diamonds