Five years is like a century, since 2015 when a record sale happened the world of jewelry changed immensely. The Sunrise Ruby, a 25.59 carat Burmese ruby ring by Cartier sold for US $32.42 million ($1,266,901/ct) at Sotheby's Geneva on 12 May, 2015, a per carat and total price world ruby auction record. It currently holds the title as the most expensive colored gemstone in the world.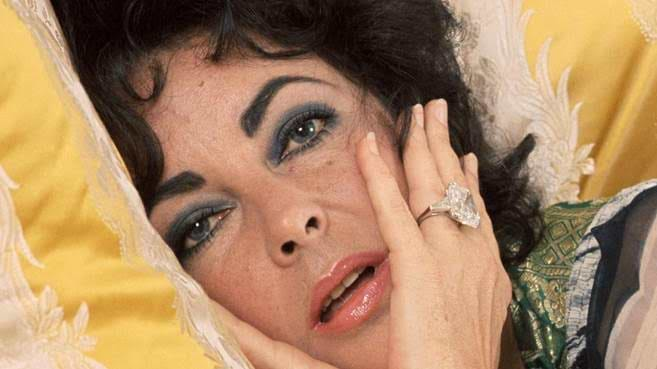 Pictured above: The Sunrise Ruby | Image © Sotheby's
Would it be possible to repeat this with the same results with everything going on today? The latest Hong Kong Auction indicates that it can happen again. There is still money for such objects, even in a time of a worldwide pandemic. Sotheby latest Hong Kong live auction showed strong results for color diamonds. At Christies in Hong Kong on June 13th a 12.11 ct Fancy Intense Blue IF marquise diamond sold for nearly US $16 million. The next day a 4.49 carat Fancy Vivid Pink Heart shape sold for US $8.1 million and a 5.04 carat Fancy Vivid Pink Heart shape fetched US $10.5 million.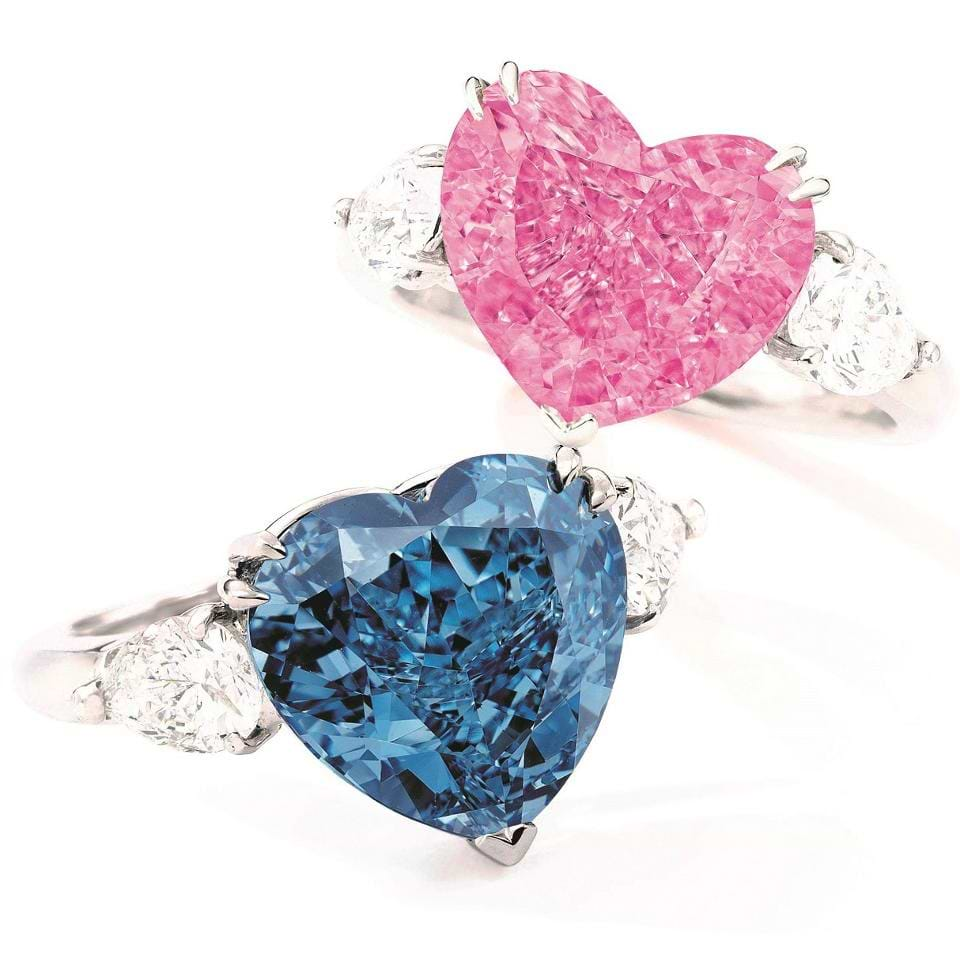 Pictured above: Fancy colored diamond jewelry from Christies Hong Kong, June 13
Parallel to the latest Hong Kong auction, Chow Tai Fook made a show in the Rosewood Hotel displaying around $500 million US goods, including the world largest vivid green and similar exceptional stones as well as Mozambique rubies at record prices.

Not only are Myanmar rubies in great demand, but also Mozambique stones can reach great prices. This lovely matched pair of rubies (14.54 and 13.12 caratt) sold for over US $6.1 million which set a new auction per carat and total price record for Mozambique ruby at Tiancheng International's December 3 2017 sale in Hong Kong. They featured a Lotus Gemology report.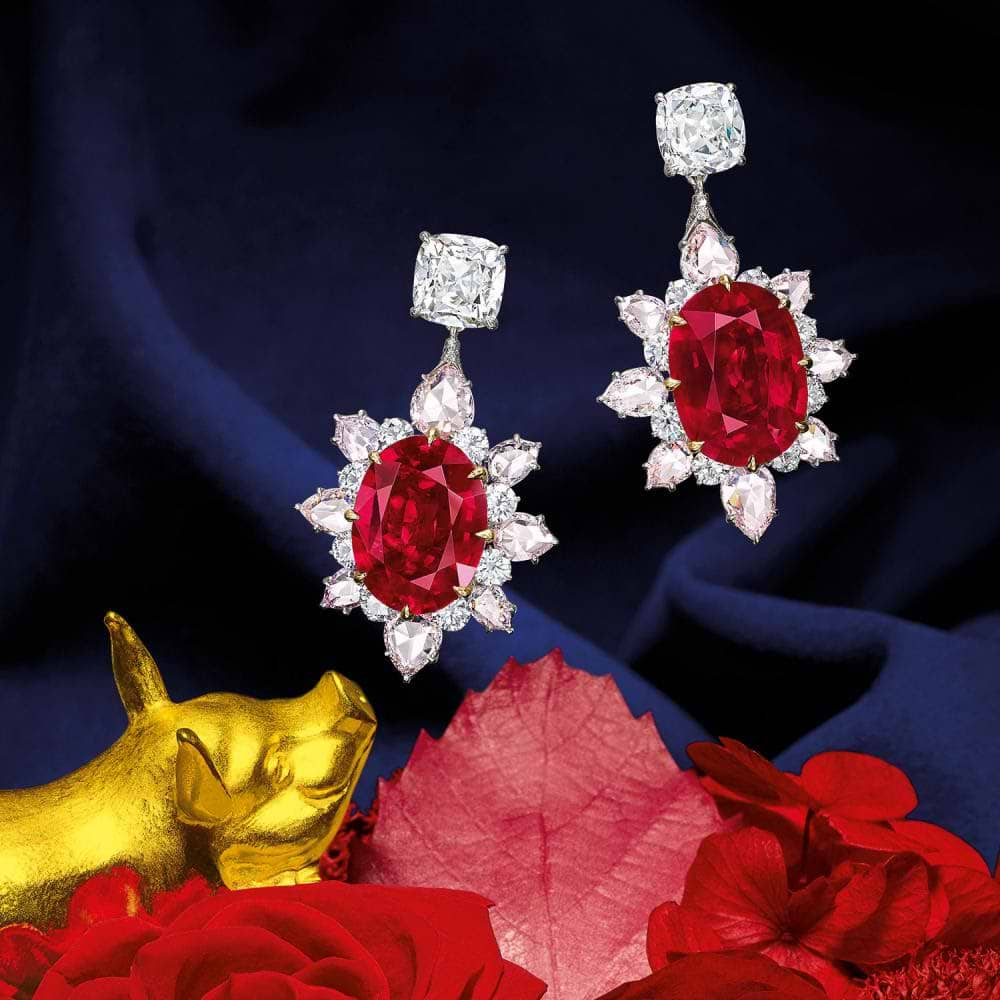 Pictured above: Mozambique Ruby earrings at Tiancheng International's December, 3 2017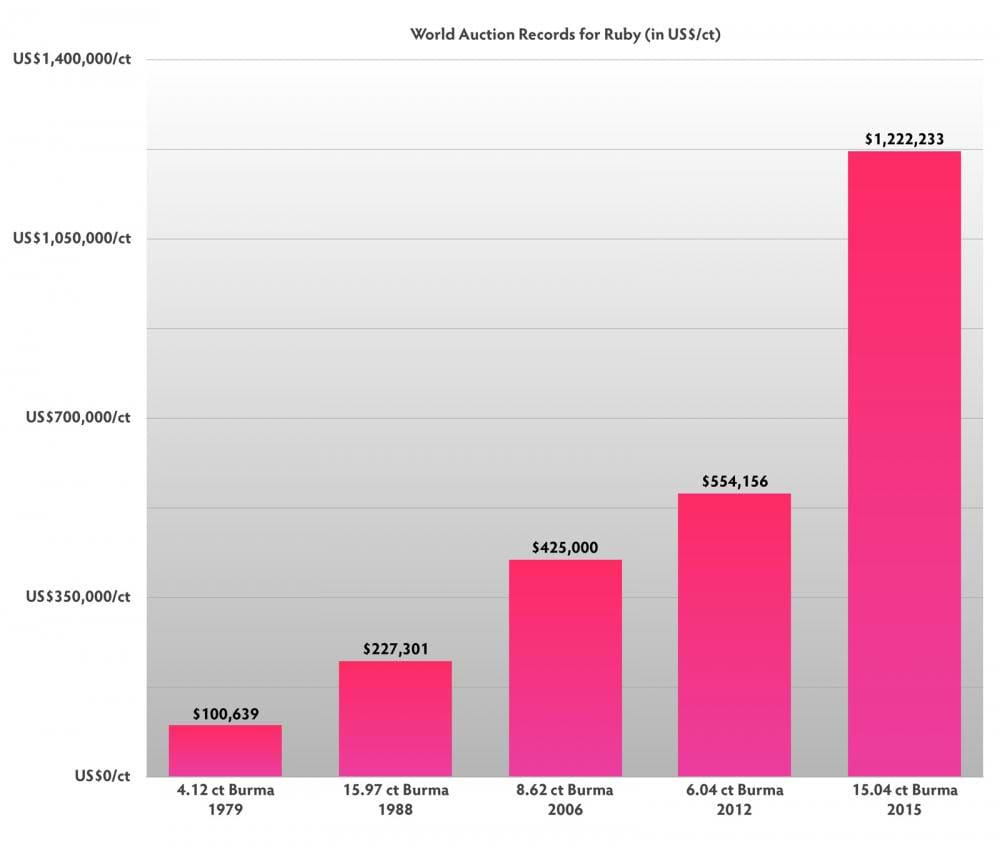 Pictured above: Graph for the world auction records for Ruby stone sales
Lawrence Graff paid a record 8.2 million Swiss francs (US $8.6 million ) for a 8.62 carat Burmese ruby at a Geneva auction. It was the second time Graff purchased this magnificent stone. Graff stated "We are very proud to have it in our possession for the second time."

Laurence Graff, best known as the King of Diamonds acquired it first in 2006. In 2014 the Price was double the original sale price five years prior. He had named the gemstone the Graff Ruby at the time. "This is the finest ruby in the world" Graff said in a Sotheby's statement after purchasing the ruby. The 8.62 carat Ruby originates from the Mogok Valley of Myanmar, formerly Burma, which "produces the rarest of all gemstones", Sotheby's said.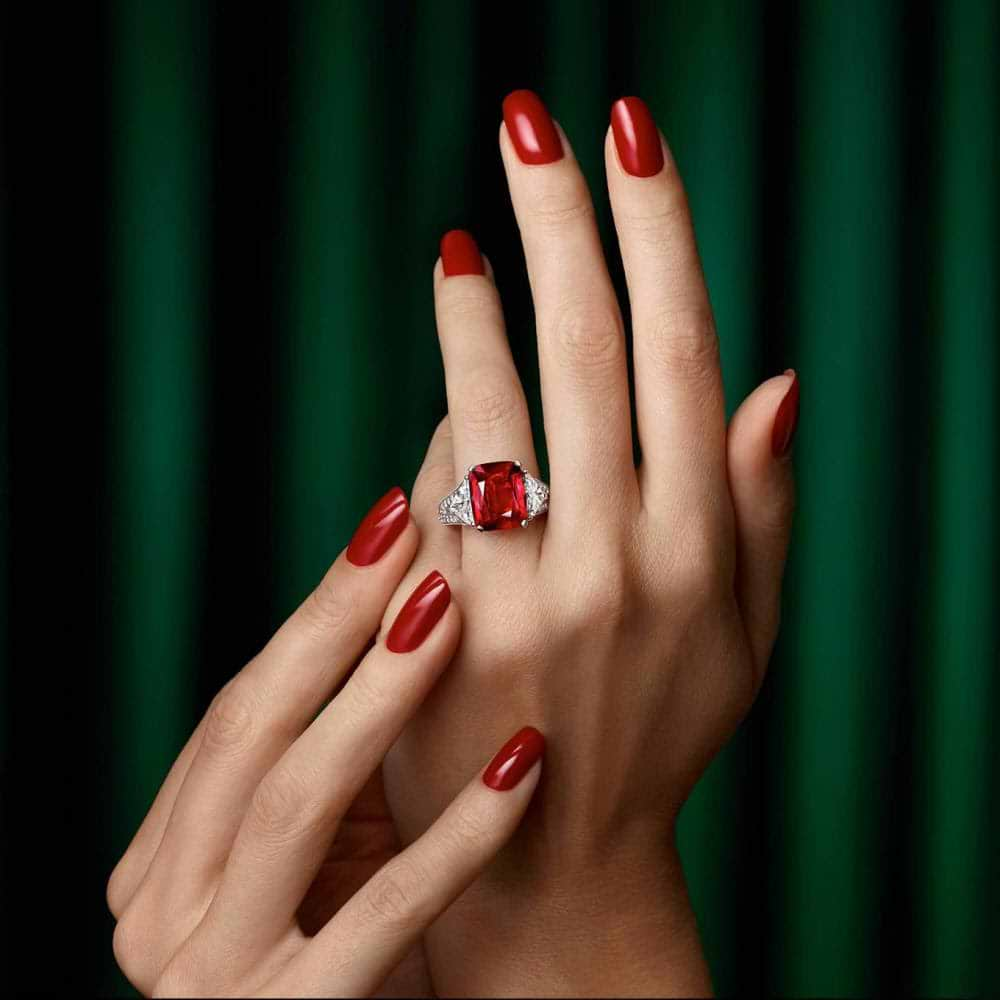 Pictured above: The Graff Ruby | Image © Sotheby's
My old friend Federico Bärlocher lives in Burma, he is one the real authorities of Gemstones. His King of Mogok 1700 carat Mother Rock Crystal is one the rarest and largest of its kind in the world.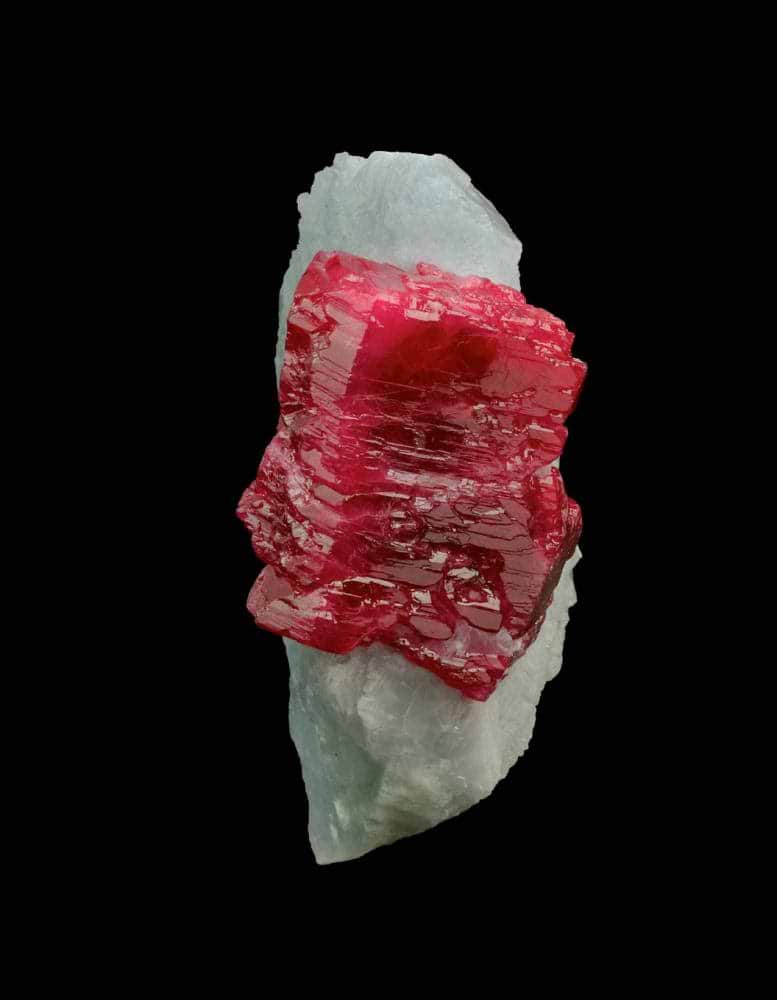 Pictured above: The King of Mogok Ruby
We at Leibish live in the world of color. In the 40 years of business we sold many important diamonds and gemstones.