Chocolate and Diamonds. What can these two possibly have in common? They both make terrific gifts, and are almost always greeted with open arms by women, as well as by men. But that is not what we are referring to. No, here the connection between these fabulous items is the color. Chocolate colored diamonds, also known as Champagne or Cognac diamonds, refers to a specific group of colored diamonds in the brown diamond collection. The term "chocolate colored diamond", a term given to the darker brown diamonds, sounds plenty more appealing and enticing than a simple "brown diamond." It also gives a romantic and sensuous feel to the diamond, transforming it from a somewhat bland color to a soft, warm, and rich stone.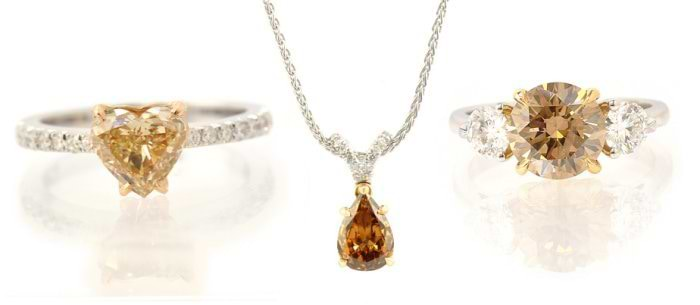 Champagne Colored Diamond Jewelry
Once considered somewhat undesirable and perhaps even the runts of colored diamonds, brown diamonds have earned a new status of a desirable fancy colors. This is due in part to the recent popularity of fancy colored diamonds in general, as well as to the magnificent jewelry styles and designs that showcase these elegant stones. We are seeing eye-catching rings, pendants, broaches, bracelets, and earrings displaying brown, champagne, and brown-orange diamonds, all part of the brown diamond family. These jewelry pieces range from traditional styles to more contemporary and retro creations.

One of the great things about champagne colored diamonds is that due to their abundance in nature and the fact that the demand is less than others, the prices are rather appealing. Even for the rarer color combinations in a higher clarity grade stone is often quite competitively priced. As a result, they are fantastic additions for some collections as well as great options for a unique gift.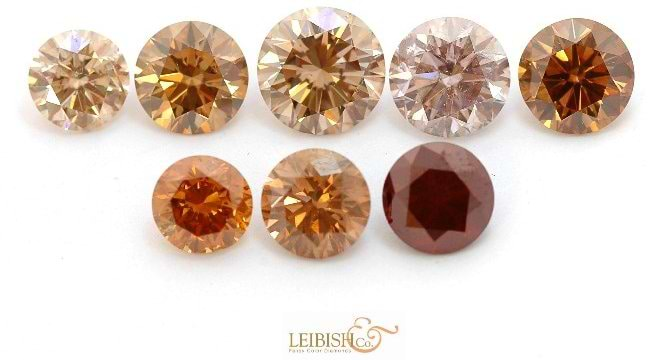 Collection of Round Shaped Brown Diamonds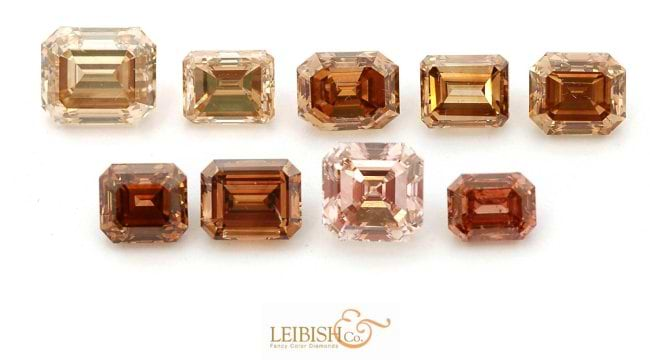 Collection of Emerald Shaped Brown Diamonds
Like other color diamond families, there are several brown diamonds that have claim to fame. Some famous brown diamonds include the Golden Jubilee, a 545.67-carat fancy yellow-brown diamond, the Golden Maharajam, a pear-shaped 65.57-carat fancy dark orange-brown diamond, the Kimberley, a 70-carat champagne colored flawless diamond, and the Great Chrysanthemum, a 104.16-carat pear-shaped fancy brown diamond.

Chocolate diamonds are making their mark today through celebrities. A number of stars have been spotted sporting chocolate diamond jewelry. Celebrities boasting the chocolate diamond trend include Christina Applegate, Jennifer Lopez, Jennifer Garner, Jessica Simpson, as well as others.

Chocolate diamonds may not be the most valuable of diamonds, but they look stunning in the right settings and are affordable options for gifts, including a Valentine's Day Gift. Instead of chocolates, you can give your special someone tasteful chocolate diamond jewelry.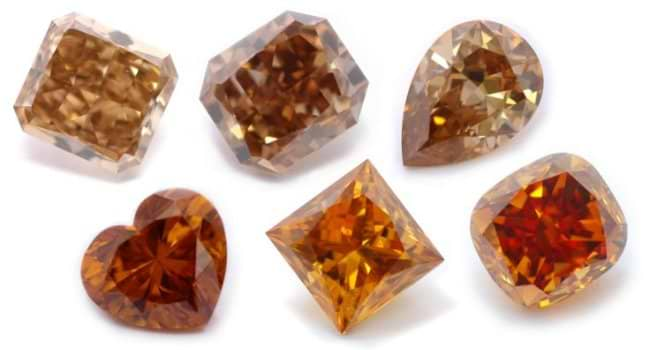 Different Shaped Diamonds Including Heart Shaped for Valentine's Day