Looking back on the 40+ years of the diamond industry and diamond price developments, I don't understand the question of "will diamond prices continue to increase, or was it just a short intermezzo out of the desert?"
In my view, diamonds are greatly undervalued and selling far below their value. If I look at the price development of cars or houses, diamonds are left far behind.
But if your prime objective when buying a fancy color diamond is the expectation of a price increase in the near future, you may not reach the goal as fast as you anticipated. When buying an important color diamond you must think in generational terms: 5 years, 10 years, or 20 years and more.
I recall when we bought our first Argyle diamond box around the year 2000 with some 10 -15 stones in the shipment, the value of these goods increased some 10-15 times.
The main purpose of buying an Argyle diamond or any fancy color diamond is to own something one of a kind, unique, and extremely rare.
In the case of Argyle, it is simple. The mine closed down and the last allocation and Tender are in the door, meaning no more goods are coming out of Argyle. So every stone with an Argyle certificate is a treasure.
Still, it is not enough to buy a stone with an Argyle certificate. It is important to read the grading written on it as the difference from the top to the bottom can be gigantic.
The top of the line of Argyle Pink Diamonds is the Red and the Purplish red.
Most of the Argyle diamonds are SI and I1 clarity, a VS clarity in a one ct size and it is extremely rare. I would say only one exists in the world and LEIBISH owns it: A 1.09 ct Fancy Purplish Red VS2 from the 2020 Argyle tender.
Red diamonds are the crème of all Argyle tender stones.
The color of pure desire is red like blood. Blood is the essence of life. It is a stone to die for. Imagine yourself holding it for 25 years and leaving it to your children, as it is a stone you don't ever want to sell.
But you don't necessarily have to fork out millions of dollars for a 1 ct Argyle Red, you can add a smaller red stone to your collection.
0.35 ct Fancy Purplish Red SI1
The hottest Argyle stones are those of round shapes as they are hardly available anymore. Each Argyle Pink Diamond from LEIBISH is a treasure- a rare gem with an Argyle and GIA certificate-mined in Western Australia.
0.25 ct FIP 6P GIA VVS2
Petra's 39-ct Blue Diamonds Fetches $40m
A 9.34-carat blue rough diamond
Important blue diamonds may have a spectacular comeback. The 39.04 ct Vivid blue rough was sold recently by Petra to DeBeers. Diacore partnership for 40 Million Dollars. This spectacular rough may produce a 25 ct Vivid blue that I would figure valued 75 mill dollars or more. It will be the largest vivid blue in the world. They are a number of clients who have the money and a great desire to own the largest vivid blue in the world
The price De Beers paid for the 39 ct rough was $1,021,357 per carat, slightly less than the $1,156,000 per rough carat paid for another diamond from the same mine, The Blue Moon of Josephine.
The Blue Moon of Josephine rough was bought by New York-based Cora International for $25.6m, transformed into a 12.03-carat fancy vivid internally flawless cushion-cut stone, and sold at Sotheby's to Hong Kong billionaire Joseph Lau for $48.5m at the highest ever price per polished carat, of $4m.
Richard Duffy, Petra's CEO, commenting on the sale of the 39.34-carat stone, said: "This sets a new milestone for Petra in achieving its highest price for a single stone and follows the sale of the 299 carat Type IIa white diamond in March this year and the five blue diamonds comprising the Letlapa Tala Collection in November 2020, purchased by the same De Beers Diacore partnership."
It was another historical blue diamond, minded in India the Wittelsbach-Graff Blue, which was bought by Graff in 2008 for 23.4 million dollars- as a Fancy deep grayish Blue- Golconda origin. Lawrence Graff made a bold decision and let the stone undergo a total recut losing 4.52 ct and finishing as a stunning Fancy Deep Blue IF 31.06 ct. The stone was sold to a private by Lawrence Graff himself for over 70 million dollars.
The Wittelsbach Graff Diamond
De Beers sold the Cullinan Mine for 72 Mill Pound in 2007. The historical mine produced many of the largest diamonds in the world.
The 14.62 ct Oppenheimer Blue sold in 2015 in Christy's for 57.5 million dollars was one of the stones from the Cullinan Mine.
Currently, there is only one other stone of this caliber in the market- a nearly 15 ct Fancy vivid blue Heart shape of exceptional color and lovely shape.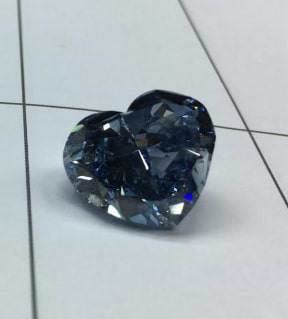 So De Beers 40 Million bet with the Steinmetz group will pay up as the rarity and size of their stone will be definitely the largest vivid blue ever sold
The market for blue diamonds is all color saturation- intense and fancy blue very strong as no good around and demand is stronger than the supply We at LEIBISH sold many important blue diamonds in the past 40 years. Currently, we are more engaged in smaller sizes up to 6 ct total weight
3.50 ct Fancy Blue GIA VS2 radiant – a new stone by Leibish
6.04 Fancy Greenish Blue -GIA- matched pair by Leibish.
A perfectly cut stone for an important anniversary
For more about Blue Diamond click here.