Hot Celebrity Engagements with Square or Round Shaped Diamonds
Christine Bleakley may have gotten engaged back in 2011 to footballer Frank Lampard, but her recent nuptials have brought attention to her fabulous square-shaped diamond engagement ring as well as her newest addition: a colorless-diamond-studded wedding band.
The Irish broadcaster and beloved TV personality said "yes" four years back, when the pair got engaged on the beach during a romantic and private lunch. Now that the beautiful Bleakley has strutted her stuff down the aisle in her full-skirt, tulle, and lace gown, we can focus on the gems that adorn her slim and elegant fingers.
The Rings
Years back, when the engagement occurred, Bleakley was flabbergasted by the size of the diamond that was gifted to her. The square-shaped diamond, believed to be a princess shape, was a solitaire stone, but it was set upon a diamond-embedded band, which only increased its glamor. One would think such an engagement ring would be toned down with a down-to-earth wedding band, such as a simple metal band, but that would be blasphemy in the world of celebrities. Instead, Lampard slipped a sparkly eternity band set with colorless channel-set diamonds upon his bride, one year his junior. The combination of these two exquisite rings most definitely has a modern element it, but at the same time, it comes across as somewhat traditional.
What many of us took notice of was the shape of the diamond these celebrities chose to wear. Similar to what was posted in How Well Do Consumers Know Their Diamonds, the round shape diamond is currently still the titleholder in terms of the diamond shape with the highest demand, but its runner-up, the princess shape, could eventually surpass its lead.
Other Noteworthy Engagement Rings
New York City FC player, Frank Lampard, is not the only one who has been showering his better half with magnificent jewels. The Real Housewives of Atlanta star, Demetria McKinney, just got engaged, and can't stop flaunting her round diamond engagement ring from her longtime boyfriend, Roger Bobb.
The reality star/singer/actress, who is thirty-six years old, happily accepted the stunning yet rather standard ring and quickly announced to the world that she is officially off the market. More and more individuals are choosing to step outside the box by going for a diamond shape other than a round brilliant. It may not be as traditional as a round brilliant, but it provides a ring with a great deal of personality and sets it apart from all the other diamond rings out there.
Verwandte Artikel über Diamanten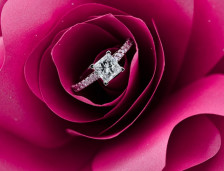 6 Myths About Engagement Rings That You Believed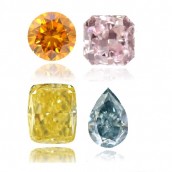 Popular Diamond Shapes
Eva Longoria's Ruby Engagement Ring