There is a plethora of different types of diamond ring designs, each suited to a different taste. Perhaps the only "problem" in buying a diamond ring is, given the extensive range of styles, deciding which style best appeals to you. This is a "problem" though that many people would love to have.

Following is a guide to some of the more popular types of rings with a brief description that, we hope, will make your decision-making process a little easier.
Solitaire

Solitaire engagement rings are a classic, elegant design comprised of a band and one solitary diamond. A Solitaire ring represents "one" – one eternal love for the one woman in your life.

As the Solitaire diamond ring is ostensibly comprised of two components and the interplay between them, it is that which determines whether the ring will be demure or flamboyant. For example, a narrower band can make a smaller diamond look larger, and a wider band gives more options in the way of settings.

The metal of the band and setting of the diamond also play major parts on the impact of a solitaire ring. When dealing with a fancy color diamond, the correct combination of band color and diamond color is essential. Solitaire diamond rings can be set with any shape in the diamond family.
Solitaire rings are designed for people who prefer a simple, yet elegant look that concentrates only on the center stone.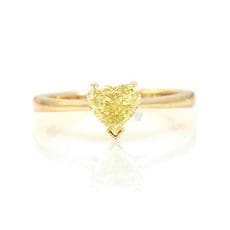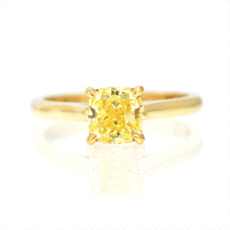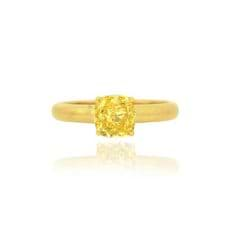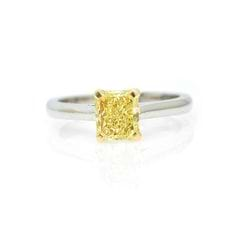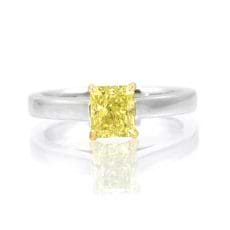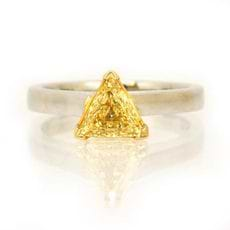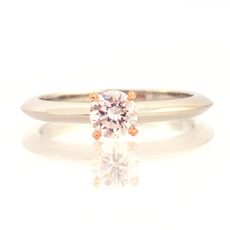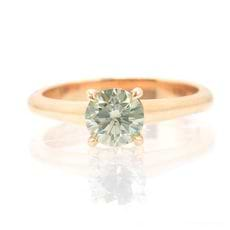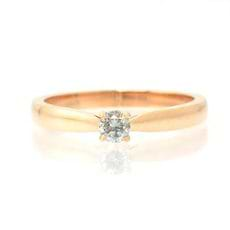 Solitaire Diamond Rings

Solitaire Accent (Side Stones)

A close relation of the Solitaire ring, the Solitaire Accent (Side Stones) engagement ring is a solitaire ring with side stones that flank the center diamond. The side stones add brilliance to the center stone, adding an enriched appearance to the diamond ring.

Most diamond shapes are suitable for the center diamond of a Solitaire Accent ring. However, the most common are Radiant, Cushion, Emerald, Asscher, Princess, and Round cut stones. The shape of the accent stones depend on the shape of the center stone in the ring. The most common side stone shapes are Triangle, Taper, Half-Moon and Trapezoids.

A Solitaire Accent ring is best suited for those seeking a Solitaire ring but with a bit more flamboyance.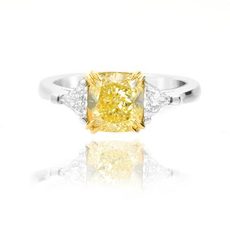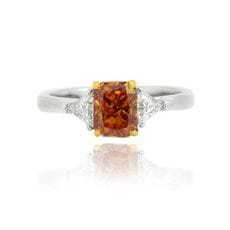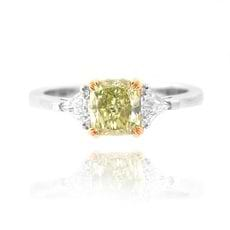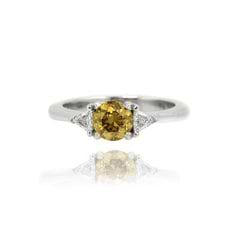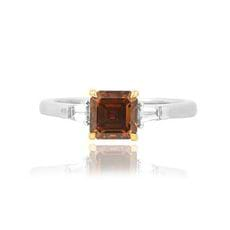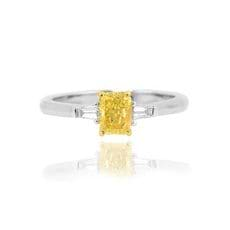 Solitaire Side Stones
3-Stone

Three Stone engagement rings comprise of a center stone flanked by a diamonds of the same shape on each side. The three stones have come to represent the past, present, and future of a couple's love for each other.

As with the Solitaire Accent ring, the most popular choices for a center stone of a Three Stone diamond ring is most commonly set with Round-cut diamonds, but can be set with many other different shapes. The center stone is usually prong-set or basket-set to accentuate the center diamond from its 'partners.'
Solitaire Pavé

A solitaire Pavé diamond ring is the same as a basic solitaire ring, only the shank contains melees (small diamonds) set with little beads to create a look of a constant surface of diamonds. The Pavé setting can be a full Pavé around the entire circumference of the shank or half Pavé only around the top half of the ring. The Pavé setting itself can be "open Pavé" or "closed Pavé," which defines how enclosed the diamonds are set within the metal.

The colors of the Pavé set diamonds can be any color, as long as the design allows for the color combination.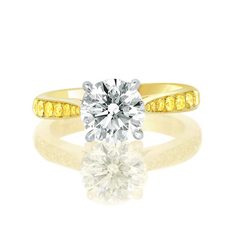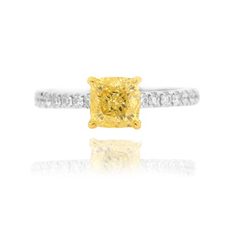 Solitaire open and closed Pavé set rings
Halo (Pave)

A Halo (Pave) diamond ring is one where the band has been encrusted with tiny diamonds to give the impression that the band is actually comprised of diamonds and not metal and they surround the center stone as well.
There are numerous combinations available for this style of setting that includes a regular single shank, a split shank, and even a triple shank ring. The surrounding Halo can be a single Halo, a double Halo, or even a triple Halo setting with all possible color combinations.

A Pave ring may be full pave or half pave depending on whether the diamonds are set around the whole band or half the band.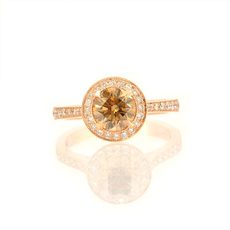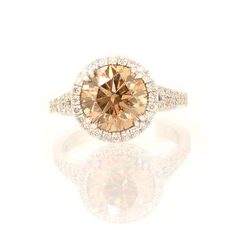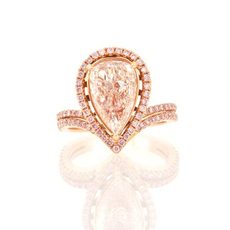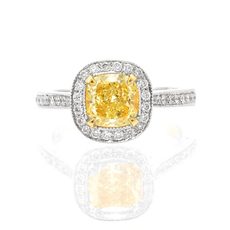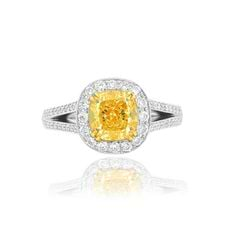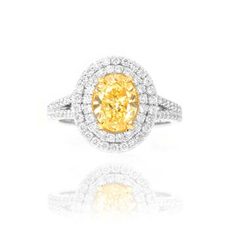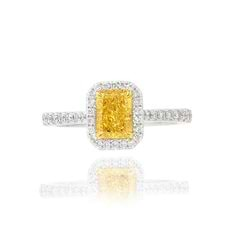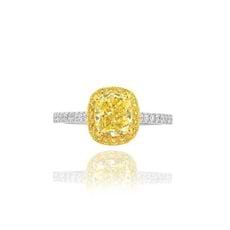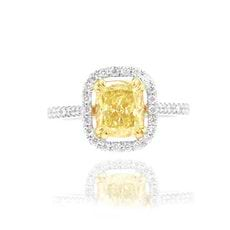 Assortment of Halo rings with Pave settings

A trend has developed toward Micro Pave rings, whereby the pave stones are so tiny they seem to be one and exude an amazing fire.
Halo Accent Pavé

Diamond rings with a combined style of accent side stones and a halo Pavé setting are classified as Halo Accent Pavé rings. They can be set with any accent side stones, such as Taper, Triangle, Half-Moon and Trapezoids. Only, the accent, center stone and the shank as well will be surrounded with diamond in a Pavé setting.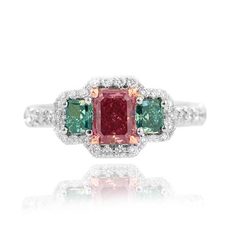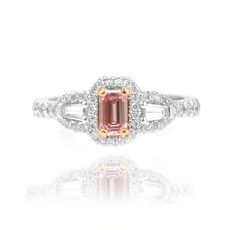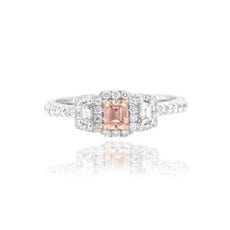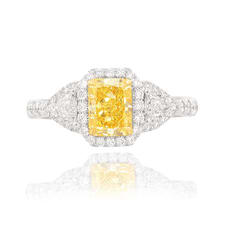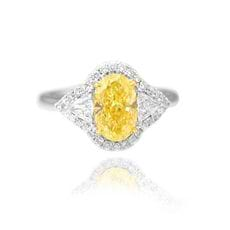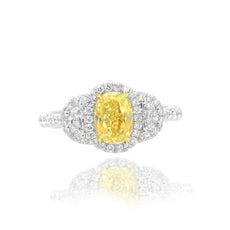 Accent Pavé set rings with a Halo around the center stones

Vintage

Vintage rings need not necessarily be vintage or antique; rather, they are rings that have an antique style.

Often based on classic designs from the early 1900s through the 1940s, vintage engagement and wedding rings include styles such as Edwardian, Art Deco, and Milgrain designs.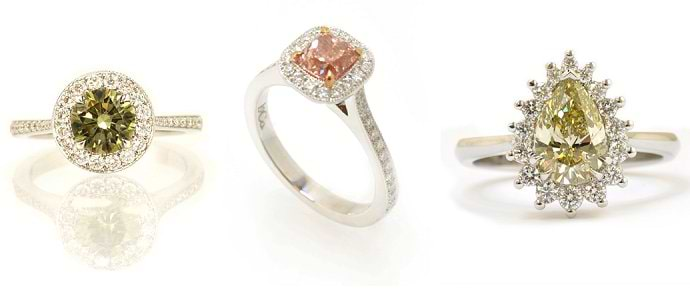 LEIBISH Vintage Diamond Rings
Designer Dress Ring

Designer dress rings make a statement all on their own. They are not tame or boring and definitely not for those who like to go unnoticed.

Often embellished with color diamonds, set in less conventional styles, such as domes, hearts, or flowers, a designer dress ring is sure to make the wearer the center of attention.

Eternity Band

So you have become engaged, gotten married, what next?

An Eternity ring comprises a band set with a continuous line of identically cut diamonds. It symbolizes eternal love, and is usually given by a husband to his wife on a significant occasion such as the birth of a child or a major anniversary.

An Eternity ring may be a full eternity or half eternity ring depending on whether the diamonds surround half or the whole of the ring.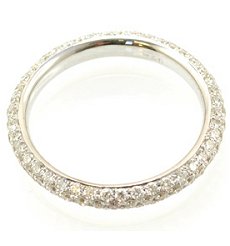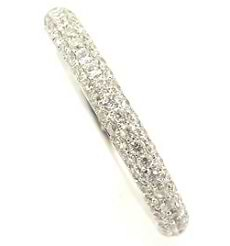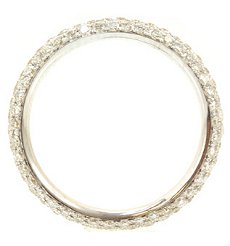 1.03 Carats, Collection Color, Round Brilliant Diamond Eternity Band

Wedding Sets/ Matching Wedding Bands

A Wedding Set or Bridal Set is a set of two rings – an engagement ring and a wedding ring. They are designed to fit closely together and can be soldered together by a jeweler after the wedding.

A Bridal Set usually may include a diamond engagement ring with a matching wedding band. Consequently, they can be worn together or separately.

Another option is a ring wrap or guard. The ring wrap is a wedding band usually encrusted with small diamonds that connects to the engagement ring. The smaller stones surround the large stone. The two pieces can be soldered together by a jeweler.

An insert wedding band enables the engagement ring to sit between two wedding bands that are joined at the bottom. When worn together, the set looks like three rings, not two. The rings can also be soldered.

Some bridal sets offer a matching man's wedding band.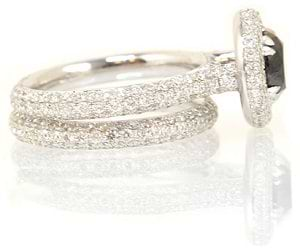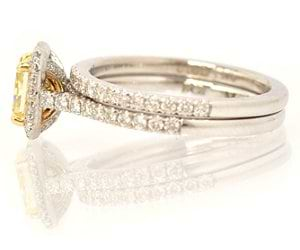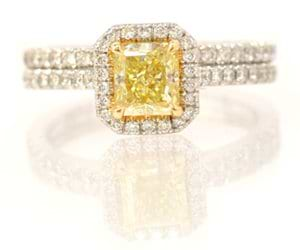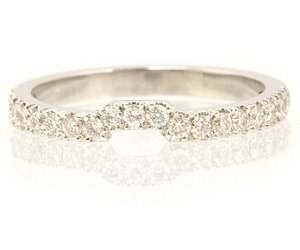 This article provides a comprehensive outline of the types of fancy color diamond rings. It is hoped that the information outlined will assist you in finding your perfect ring. Remember, your perfect ring is out there just waiting to be found.


Contributor: Benji Margolese